Broadway Show Ticket Sales Analysis w/e 1/19/2014
Broadway Show Ticket Sales Analysis For Week Ending 01/19/2014 Sees A Slight Increase Across The Industry With New Shows Hitting The Stage.
---
Broadway Sales Get A Small Bump

Following a major dive in revenue last week, overall Broadway ticket sales made a slight move upward this week, going from $19,579,699 up to $20,091,732, an increase of about half a million dollars.
New Broadway Shows See Mixed Results

With the New Year comes a number of new Broadway shows, which are ushering in the spring season a bit early. The Carole King bio-musical Beautiful is doing the best among them, nearly selling out and getting an average paid admission of $105.96.
Outside Mullingar (starring Will & Grace's Debra Messing) is also coming close to selling out, but tickets are averaging at just $56.75. The New York Yankees play Bronx Bombers isn't doing well so far, filling the theater to 61.90% capacity and getting an average ticket price of only $44.17.
The following are the Broadway ticket numbers for the week ending January 19, 2014: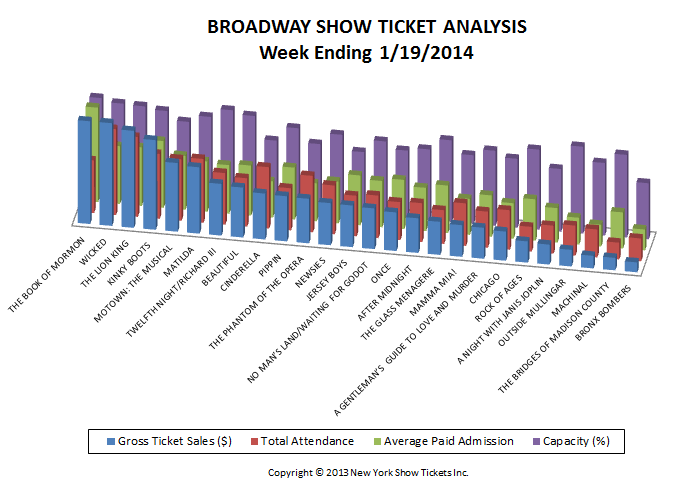 | | | | | |
| --- | --- | --- | --- | --- |
| Show | GrossGross | Total Attn | %Cap | AvgPdAdm |
| A GENTLEMAN'S GUIDE TO LOVE AND MURDER | $527,598 | 6,010 | 82.83% | $87.79 |
| A NIGHT WITH JANIS JOPLIN | $339,451 | 4,643 | 69.09% | $73.11 |
| AFTER MIDNIGHT | $590,401 | 6,454 | 77.87% | $91.48 |
| BEAUTIFUL | $850,362 | 8,025 | 97.77% | $105.96 |
| BRONX BOMBERS | $167,974 | 3,803 | 61.90% | $44.17 |
| CHICAGO | $495,368 | 6,575 | 76.10% | $75.34 |
| CINDERELLA | $781,752 | 10,185 | 72.71% | $76.76 |
| JERSEY BOYS | $709,931 | 6,732 | 68.53% | $105.46 |
| KINKY BOOTS | $1,527,348 | 10,795 | 94.76% | $141.49 |
| MACHINAL | $214,329 | 4,653 | 80.00% | $46.06 |
| MAMMA MIA! | $538,818 | 7,064 | 75.73% | $76.28 |
| MATILDA | $1,130,146 | 10,594 | 92.48% | $106.68 |
| MOTOWN: THE MUSICAL | $1,169,588 | 10,235 | 84.90% | $114.27 |
| NEWSIES | $717,531 | 8,110 | 85.55% | $88.47 |
| NO MAN'S LAND/WAITING FOR GODOT | $692,954 | 7,079 | 82.47% | $97.89 |
| ONCE | $657,372 | 6,306 | 74.43% | $104.25 |
| OUTSIDE MULLINGAR | $282,706 | 4,982 | 95.81% | $56.75 |
| PIPPIN | $768,965 | 7,010 | 88.51% | $109.70 |
| ROCK OF AGES | $361,214 | 4,120 | 88.34% | $87.67 |
| THE BOOK OF MORMON | $1,750,313 | 8,752 | 102.63% | $199.99 |
| THE BRIDGES OF MADISON COUNTY | $212,261 | 2,783 | 91.04% | $76.27 |
| THE GLASS MENAGERIE | $563,227 | 5,608 | 90.10% | $100.43 |
| THE LION KING | $1,653,132 | 13,292 | 97.74% | $124.37 |
| THE PHANTOM OF THE OPERA | $757,978 | 9,388 | 73.12% | $80.74 |
| TWELFTH NIGHT/RICHARD III | $881,048 | 8,571 | 101.94% | $102.79 |
| WICKED | $1,749,967 | 14,273 | 98.62% | $122.61 |
| Totals: | $20,091,732 | 196,042 | 84.81% | $96.03 |
Broadway ticket sales raw data are provided courtesy of The Broadway League All other data, text, opinion, charts and commentary are copyright © 2013 nytix.com