Broadway Show Ticket Sales Analysis w/e 1/13/2013
---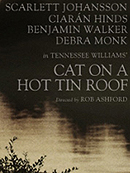 TOTAL BROADWAY TICKET SALES TAKE A DIVE
The warm glow of Christmas and the cheer of New Year's has thoroughly worn off as the chill of winter sales has settled in. Broadway's total ticket sales revenue dropped by several million from the previous week's $24,501,265 all the way down to $17,802,126. Following several show closings on January 6, there were five fewer Broadway shows playing this past week, which no doubt contributed to the lower numbers. But, mostly, the poor sales are simply due to the annual Broadway winter blues. January is a notoriously bad month on the Great White Way, with all of the tourists having returned home from Christmas vacation and all the locals saving their pennies after having spent so many of them over the holidays.
CAT ON A HOT TIN ROOF FARING WELL SO FAR
The only show that has dared to start performances so far during this bleak time on Broadway, the Rob Ashford-directed revival of the Tennessee Williams' classic
Cat on a Hot Tin Roof
has been doing well so far, filling its theater to 85.15% capacity and selling tickets at an average paid admission of $89.02. Most play productions could not expect to enjoy such (relatively) high numbers, but
Cat on a Hot Tin Roof
has the advantage of a high-profile cast headed by film star Scarlett Johansson (
The Avengers
).
MILLIONAIRES' CLUB DWINDLES TO FOUR
Many Broadway shows, such as
Annie
,
Evita
, and
Mary Poppins
, soared past the million dollar mark during the bounty of the holiday period, but this week only four shows managed to make more than that. The top three shows were the usual suspects,
Wicked
,
The Book of Mormon
, and
The Lion King
, with
The Book of Mormon
just barely coming out on top with a total of $1,630,961. The fourth entry was
Spiderman, Turn Off the Dark
, which earned $1,129,755.
The following are the Broadway ticket sales numbers from the week ending January 13, 2013: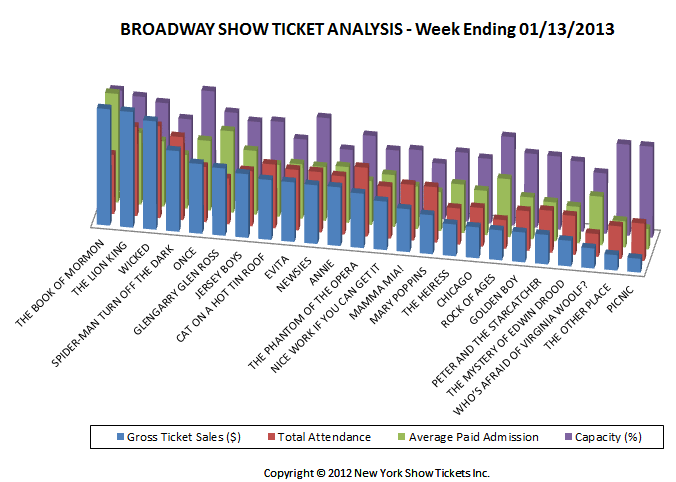 | | | | | |
| --- | --- | --- | --- | --- |
| Show Name | Gross | Attendance | Capacity | AvgPaidAdm |
| ANNIE | $822,129 | 8,583 | 62.81% | $95.79 |
| CAT ON A HOT TIN ROOF | $839,273 | 9,428 | 85.15% | $89.02 |
| CHICAGO | $433,628 | 5,714 | 66.13% | $75.89 |
| EVITA | $834,914 | 8,931 | 69.25% | $93.48 |
| GLENGARRY GLEN ROSS | $944,347 | 6,763 | 90.29% | $139.63 |
| GOLDEN BOY | $418,061 | 5,853 | 75.27% | $71.43 |
| JERSEY BOYS | $892,531 | 8,153 | 82.99% | $109.47 |
| MAMMA MIA! | $601,136 | 8,238 | 68.74% | $72.97 |
| MARY POPPINS | $546,571 | 8,190 | 56.97% | $66.74 |
| NEWSIES | $822,822 | 8,911 | 93.21% | $92.34 |
| NICE WORK IF YOU CAN GET IT | $679,850 | 7,640 | 66.37% | $88.99 |
| ONCE | $976,903 | 8,166 | 110.26% | $119.63 |
| PETER AND THE STARCATCHER | $412,975 | 6,216 | 74.86% | $66.44 |
| PICNIC | $193,935 | 5,525 | 93.33% | $35.10 |
| ROCK OF AGES | $419,474 | 4,219 | 90.46% | $99.42 |
| SPIDER-MAN TURN OFF THE DARK | $1,129,755 | 12,272 | 79.48% | $92.06 |
| THE BOOK OF MORMON | $1,630,961 | 8,754 | 102.65% | $186.31 |
| THE HEIRESS | $444,970 | 5,346 | 70.27% | $83.23 |
| THE LION KING | $1,620,752 | 13,179 | 98.23% | $122.98 |
| THE MYSTERY OF EDWIN DROOD | $359,201 | 5,752 | 71.61% | $62.45 |
| THE OTHER PLACE | $215,122 | 4,803 | 93.23% | $44.79 |
| THE PHANTOM OF THE OPERA | $762,638 | 10,155 | 79.09% | $75.10 |
| WHO'S AFRAID OF VIRGINIA WOOLF? | $281,137 | 3,372 | 61.76% | $83.37 |
| WICKED | $1,519,043 | 13,586 | 93.88% | $111.81 |
| Total | $17,802,126 | 187,749 | 80.68% | $90.77 |
Broadway ticket sales raw data are provided courtesy of The Broadway League All other data, text, opinion, charts and commentary are copyright © 2012 nytix.com
Discount Broadway Tickets
---
---