Broadway Show Ticket Sales Analysis w/e 1/12/2014
Broadway Show Ticket Sales Analysis For Week Ending 01/12/2014 Shows A Dramatic Decrease In Ticket Sales After Busy Holiday Season
---
Broadway Ticket Sales Fall Dramatically

Though it's always expected that Broadway revenue will start to dry up in January after enjoying a considerable boost during the winter holiday season, it's still a striking blow to see overall Broadway sales plummet from last week's $31,143,670 down to $19,579,699. January and February are typically among the bleakest months where Broadway ticket sales are concerned.
The Tragedy Of "Macbeth" Ends

The latest revival of William Shakespeare's often-produced tragedy Macbeth, this one starring Ethan Hawke in the title role, concluded its limited run at Lincoln Center this past Sunday. WIth less-than-stellar reviews and little buzz, the production did middling business. Its final week reflected this, with 82.08% attendance at the Vivian Beaumont Theatre and an average paid admission of $65.32.
The following are the Broadway ticket sales numbers for the week ending January 12, 2014: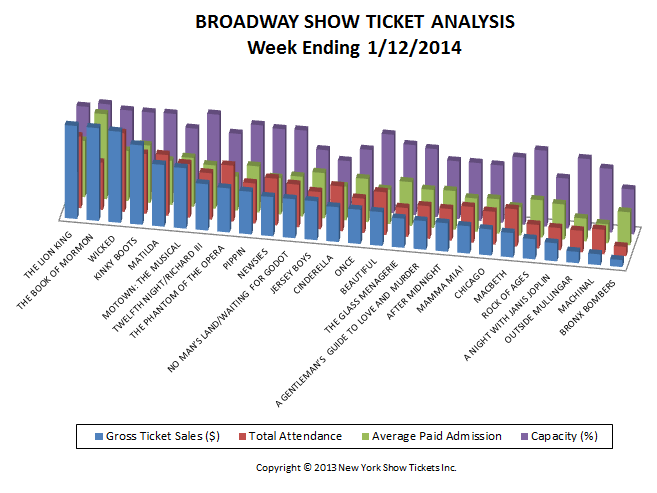 | | | | | |
| --- | --- | --- | --- | --- |
| Show | GrossGross | Total Attn | %Cap | AvgPdAdm |
| A GENTLEMAN'S GUIDE TO LOVE AND MURDER | $526,669 | 6,027 | 83.06% | $87.38 |
| A NIGHT WITH JANIS JOPLIN | $331,705 | 4,114 | 61.22% | $80.63 |
| AFTER MIDNIGHT | $522,397 | 5,849 | 70.57% | $89.31 |
| BEAUTIFUL | $622,394 | 7,882 | 96.03% | $78.96 |
| BRONX BOMBERS | $128,209 | 1,692 | 54.79% | $75.77 |
| CHICAGO | $480,262 | 6,058 | 70.12% | $79.28 |
| CINDERELLA | $642,019 | 8,263 | 58.99% | $77.70 |
| JERSEY BOYS | $715,549 | 6,872 | 69.95% | $104.13 |
| KINKY BOOTS | $1,463,770 | 11,076 | 97.23% | $132.16 |
| MACBETH | $449,047 | 6,875 | 82.08% | $65.32 |
| MACHINAL | $197,634 | 4,521 | 77.73% | $43.71 |
| MAMMA MIA! | $504,214 | 6,590 | 70.65% | $76.51 |
| MATILDA | $1,138,576 | 11,221 | 97.95% | $101.47 |
| MOTOWN: THE MUSICAL | $1,113,620 | 9,912 | 82.22% | $112.35 |
| NEWSIES | $722,110 | 8,628 | 91.01% | $83.69 |
| NO MAN'S LAND/WAITING FOR GODOT | $718,285 | 7,875 | 91.74% | $91.21 |
| ONCE | $631,440 | 6,357 | 75.04% | $99.33 |
| OUTSIDE MULLINGAR | $208,084 | 3,974 | 87.34% | $52.36 |
| PIPPIN | $785,586 | 7,397 | 93.40% | $106.20 |
| ROCK OF AGES | $371,622 | 4,337 | 92.99% | $85.69 |
| THE BOOK OF MORMON | $1,709,586 | 8,752 | 102.63% | $195.34 |
| THE GLASS MENAGERIE | $537,792 | 5,328 | 85.60% | $100.94 |
| THE LION KING | $1,714,261 | 13,230 | 97.28% | $129.57 |
| THE PHANTOM OF THE OPERA | $811,982 | 10,335 | 80.49% | $78.57 |
| TWELFTH NIGHT/RICHARD III | $852,893 | 8,562 | 101.83% | $99.61 |
| WICKED | $1,679,996 | 14,561 | 97.38% | $115.38 |
| Totals: | $19,579,699 | 196,288 | 83.44% | $93.95 |
Broadway ticket sales raw data are provided courtesy of The Broadway League All other data, text, opinion, charts and commentary are copyright © 2013 nytix.com
Discount Broadway Tickets
---
---