Broadway Show Ticket Sales Analysis w/e 07/24/2016
Motown Is A Flop, Cats Is A Potential Hit, And Shuffle Along Closes Due To Audra Mcdonald'S Maternity Leave, With Ticket Sales Still On The High Side.
---
Shuffle Along Goes Out On A High Note
On July 24, 2016, Shuffle Along, or the Making of the Musical Sensation of 1912 and All That Followed played its final performance on Broadway. The musical, which won the Drama Desk Award for Best Musical but earned a grand total of zero Tony Awards, began previews on March 15, 2016 ahead of an April 28, 2016 opening.
Throughout the spring, Shuffle Along certainly was buzzed about – with a starry cast including Audra McDonald and Brian Stokes Mitchell, and a radical reconception of a forgotten classic of African American musical theatre – this show was a very exciting addition to the Broadway season.
"Hamilton" Overshadows "Shuffle Along"
However, like every other show in town, Shuffle Along was overshadowed by the undeniable hit Hamilton, which took home the Tony Award for Best Musical, and was the principal reason why Shuffle Along earned no Tony Awards. (It was only the top performer at the Drama Desk Awards because Hamilton was ineligible, having been eligible the previous year in its Off-Broadway production.) In any case, Shuffle Along decided to close precipitously in advance of Audra McDonald's maternity leave.
In its final week of performances, Shuffle Along brought in $865,912, which represented 76.97% of its gross potential. With a top ticket price of $373.00, the average paid admission was $111.01, and the audience was filled up to 101.2% on average. Across the 30 weeks of the run, the average percentage reached of gross potential was 80.47%. Therefore, although Shuffle Along did not beat its personal best in its final week of performances, it did keep consistently high grosses until the very end, rather than closing as ticket sales began to dwindle, as some other shows do.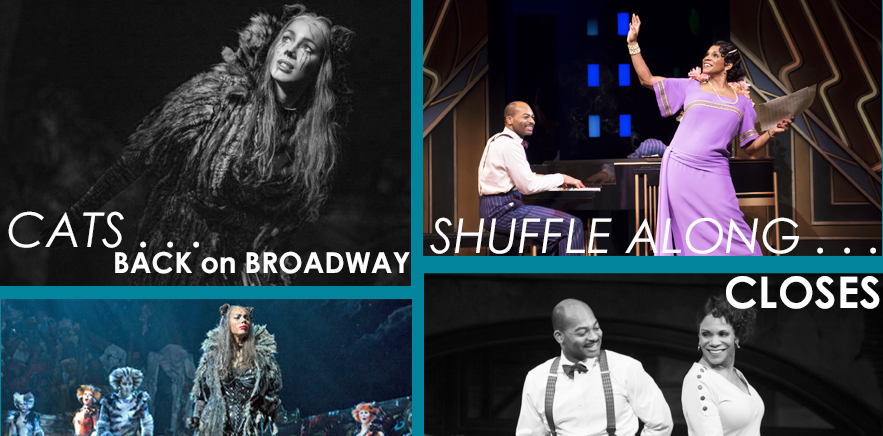 Cats Return To Broadway Could Be A Hit
In the week ending July 24, 2016, the 2016 revival of Cats played its second partial week of six performances, following a first partial week of 4 performances. Working its way up to a full week of eight performances, Cats is already showing signs of great success. In this past week of six performances, the show brought in $853,633, which represents 81.10% of its gross potential.
Once it is running in full performance weeks, it shouldn't be too hard for the show to reach the million-dollar mark, and perhaps stay there for consecutive weeks on end – that is, if the excitement of a new production of Cats doesn't wear off with its novelty. If the reviews are positive, this could be a renaissance for this feline-centered musical, which now holds the title of the fourth longest-running show on Broadway of all time from its original production.
Motown's Return To Broadway Is A Flop
Meanwhile, a newer show, Motown the Musical, made its way around the country on a national tour, only to arrive back on Broadway as planned. However, while the show left with ticket demand still high, it returned to find demand much lower. This past week, Motown brought in $484,334 over the course of eight performances, representing 41.80% of its gross potential.
With a top ticket price of $275.00, the average paid admission was $73.24, and the audience was filled up to an average of 70.8% of its capacity. Despite the nostalgic bliss of the Motown catalogue of hit songs, the jukebox musical just couldn't compete with the newer fair. After all, unlike during the original run from 2013 to early 2015, we are now in a post-Hamilton world, where are the rules are broken. Therefore, Motown will close at the end of next week on July 31, 2016, after just three weeks of performances in the revamped Broadway production.
The following are the Broadway ticket sales numbers for the week ending July 24, 2016:
| | | | | | |
| --- | --- | --- | --- | --- | --- |
| # | Show Name | GrossGross | TotalAttn | %Capacity | AvgPdAdm |
| 4 | ALADDIN | $1,737,722 | 13,531 | 97.94% | $128.43 |
| 29 | AN ACT OF GOD | $285,827 | 3,607 | 68.43% | $79.24 |
| 20 | AN AMERICAN IN PARIS | $643,523 | 8,364 | 62.27% | $76.94 |
| 17 | BEAUTIFUL | $736,452 | 6,757 | 82.32% | $108.99 |
| 13 | CATS | $853,633 | 7,911 | 96.17% | $107.90 |
| 22 | CHICAGO | $572,619 | 6,874 | 79.56% | $83.30 |
| 16 | FIDDLER ON THE ROOF | $741,930 | 9,775 | 71.58% | $75.90 |
| 21 | FINDING NEVERLAND | $638,918 | 8,728 | 72.54% | $73.20 |
| 26 | FULLY COMMITTED | $471,574 | 5,774 | 78.97% | $81.67 |
| 28 | FUN HOME | $368,325 | 4,867 | 82.21% | $75.68 |
| 2 | HAMILTON | $2,046,711 | 10,754 | 101.76% | $190.32 |
| 24 | JERSEY BOYS | $521,576 | 6,384 | 64.98% | $81.70 |
| 18 | KINKY BOOTS | $672,382 | 7,151 | 62.77% | $94.03 |
| 11 | LES MISÉRABLES | $947,395 | 10,748 | 95.35% | $88.15 |
| 10 | MATILDA | $956,433 | 10,863 | 94.82% | $88.05 |
| 25 | MOTOWN THE MUSICAL | $484,334 | 6,613 | 70.77% | $73.24 |
| 15 | ON YOUR FEET! | $761,232 | 8,262 | 63.51% | $92.14 |
| 9 | PARAMOUR | $980,483 | 10,681 | 70.42% | $91.80 |
| 6 | SCHOOL OF ROCK | $1,207,375 | 11,580 | 96.82% | $104.26 |
| 12 | SHUFFLE ALONG, OR, THE MAKING OF THE MUSICAL SENSATION OF 1921 AND ALL THAT FOLLOWED | $865,912 | 7,800 | 101.25% | $111.01 |
| 19 | SOMETHING ROTTEN! | $666,347 | 8,613 | 71.58% | $77.37 |
| 5 | THE BOOK OF MORMON | $1,347,238 | 8,743 | 102.52% | $154.09 |
| 14 | THE COLOR PURPLE | $789,876 | 8,123 | 96.61% | $97.24 |
| 27 | THE CURIOUS INCIDENT OF THE DOG IN THE NIGHT-TIME | $433,660 | 6,050 | 74.29% | $71.68 |
| 23 | THE HUMANS | $554,398 | 4,579 | 99.37% | $121.07 |
| 1 | THE LION KING | $2,310,911 | 13,453 | 99.15% | $171.78 |
| 8 | THE PHANTOM OF THE OPERA | $1,016,681 | 11,107 | 86.50% | $91.54 |
| 7 | WAITRESS | $1,071,704 | 8,332 | 99.67% | $128.63 |
| 3 | WICKED | $1,896,987 | 14,589 | 97.70% | $130.03 |
| | TOTALS | $26,582,154 | 250,613 | 84.20% | $101.70 |
Broadway ticket sales raw data are provided courtesy of The Broadway League. All other data, text, opinion, charts and commentary are copyright © 2016 nytix.com