Broadway Schedule Changes For Christmas
Many Broadway Shows Have Changes In Their Normal Performance Schedule Due To The Christmas Holiday, Some Add Extra Matinees Later In The Week
---
Many Broadway Shows Canceling Christmas Performances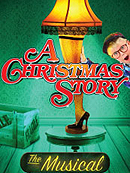 The Christmas holiday, which is right around the corner, is a popular time for seeing Broadway shows. However, if you are thinking of finally buying some Broadway tickets so that you can take your visiting family to a show, or if you're considering making a last-minute trip down to the box office to snag seats, you should bear in mind that Broadway tends to change its schedule around during major holidays like Christmas.
Very few Broadway shows will have performances on December 25, Christmas Day, or on December 24, Christmas Eve Day. If you are determined to spend Christmas on Broadway, though, there are a few notable exceptions. A Christmas Story, Newsies, and Spider-Man Turn Off the Dark will all have matinee performances on Monday, December 24.
Extra Matinees On Thursday And Friday
On Tuesday, December 25, Chicago, Evita, Jersey Boys, Mamma Mia!, The Phantom of the Opera, Rock of Ages, and Who's Afraid of Virginia Woolf? will all perform in the evening, providing a perfect activity for families who have spent all day feasting and are ready for a little entertainment. Many Broadway shows will make up for their "lost" Christmas Day performances by scheduling matinees on Thursday and/or Friday, days that rarely offer matinees.
With many people taking all of Christmas week off for vacation, these could prove to be very popular performances for Broadway shows, especially the more family-oriented ones.