Broadway Performers Joel Grey and Brooke Shields Named Living Landmarks
The Annual New York Landmarks Conservancy Event Honors Living Landmarks Joey Grey And Brooke Shields At The Plaza In Manhattan
---
New York Landmarks Conservancy Honor Living Landmarks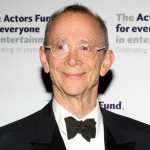 Every year the New York Landmarks Conservancy honors people who they dub as "living landmarks," and this year two stage performers of different generations, Joel Grey and Brooke Shields, will be recognized in their annual event taking place at The Plaza in Manhattan on November 14.
One of the most respected elder statesman of the Broadway theater, Joel Grey has starred in Broadway musicals such as Cabaret, Chicago, Wicked, and most recently Anything Goes. Brooke Shields initially gained fame in film and television, but she has also appeared on Broadway a number of times in productions like Grease, Wonderful Town, and The Addams Family.
Liz Smith Will Host The Event
A Living Landmark herself, Liz Smith, will host the event, and music will be provided by Peter Duchin and his Orchestra. Tickets for the Living Landmarks gala are a pricey $1,000 (or $10,000 for a table). Call 212-995-5260 or email JennaSmith@nylandmarks.org for tickets and information.