Broadway Performance Schedule Christmas 2016
A List Of All Broadway Shows For The Week Leading Up To Christmas 2016.
---
Broadway Performance Christmas 2016 Schedule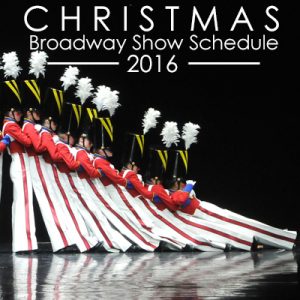 This year, the Christmas holiday is going to be especially busy on Broadway. The Christmas Spectacular Starring the Radio City Rockettes, will have a total of 28 performances scheduled for the week of December 19th through to Christmas Day. Other shows on Broadway, however, have a number of performance alterations, cancellations and many make-up added performances.
Below are the performance dates and times for all the current Broadway shows.Many shows this year are doing either a Christmas Eve or Christmas Day show, with the notable of the rich kids at Hamilton.
LEGEND: Red Strikethrough Dates = Canceled Broadway performance Green Bolded Dates = Extra performance to make up for missed performances Blue Italics = Different curtain time than the normal schedule Bolded = CLOSED shows for this date
BROADWAY SHOW

Mon. Dec. 19

Tue. Dec. 20

Wed. Dec. 21

Thu. Dec. 22

Fri. Dec. 23

Sat. Dec. 24

Sun. Dec. 25

Aladdin

CLOSED
7pm
1pm,
7pm
7pm
2pm,
8pm
1pm,
8pm
1pm,
6:30pm

Beautiful

7pm
7pm
2pm,
7pm
7pm
8pm
2pm,
8pm
2pm,
7pm

The Book of Mormon

CLOSED
7pm
2pm,7pm
7pm
2pm,8pm
2pm,
8pm
2pm,
7pm

A Bronx Tale

CLOSED
7pm
2pm,
7pm
7pm
2pm,
8pm
2pm,
8pm
7pm

Cats

8pm
7pm
2pm,
7:30pm
7pm
8pm
2pm,
8pm
2pm,7pm

Chicago

8pm
8pm
2:30pm,
8pm
8pm
8pm
2:30pm,
8pm
2:30pm,
7pm

The Color Purple

7pm
7pm
2pm,8pm
7pm
8pm
2pm, 8pm
3pm,
7pm

Christmas Spectacular 2016

11am
2pm
5pm
8pm
11am
2pm
5pm
8pm
11am
2pm
5pm8pm
11am
2pm
5pm
8pm
11am
2pm
4:30pm
7:30pm
10pm
11am
2pm
5pm
1pm
4pm7pm
10pm

Dear Evan Hansen

7pm
7pm
2pm,
8pm
7pm
8pm
2pm,
8pm
3pm

The Encounter

7pm
7pm
2pm,
8pm
7pm
8pm
2pm,
8pm
3pm

Falsettos

CLOSED
7pm
2pm
8pm
7pm
2pm,8pm
2pm
8pm
3pm

Fiddler on the Roof

7pm
7pm
2pm,
8pm
7pm
8pm
3pm
8pm
3pm

The Front Page

CLOSED
7pm
2pm,
8pm
7pm
2pm,8pm
2pm
8pm
3pm

Hamilton

7pm
7pm
2pm,
8pm
7pm
2pm,
8pm
2pm
8pm
3pm

Holiday Inn

CLOSED
8pm
2pm,
8pm
8pm
2pm,
8pm
2pm
8pm
3pm

The Humans

8pm
7pm
2pm8pm
7pm
8pm
2pm
8pm
3pm

The Illusionists

CLOSED
7pm
2pm,7pm
7pm
3pm,8pm
11am
3pm
8pm
3pm,
7pm

In Transit

7pm
7pm
2pm,
8pm
7pm
8pm
2pm
8pm
7pm

Jersey Boys

CLOSED
7pm
2pm,7pm
7pm
2pm,8pm
2pm
8pm
3pm
7pm

Kinky Boots

8pm
7pm
2pm,
8pm
7pm
8pm
2pm
8pm
3pm

Les Liaisons Dangereuses

CLOSED
7pm
2pm,
8pm
7pm
2pm,
8pm
2pm
8pm
3pm

The Lion King

CLOSED
7pm
2pm,
8pm
8pm
2pm, 8pm
1pm,
8pm
1pm
6:30pm

Matilda

CLOSED
7pm
2pm,
7:30pm
7pm
8pm
2pm
8pm
1pm
6:30pm

Natasha, Pierre & The Great Comet of 1812

7pm
7pm
2pm,
8pm
7pm
2pm,8pm
2pm
8pm
3pm

Oh, Hello

CLOSED
8pm
2pm,
8pm
8pm
2pm,8pm
2pm
8pm
3pm
7pm

On Your Feet!

8pm
7pm
2pm,
8pm
7pm
8pm
2pm
8pm
2pm
7pm

Paramour

7pm
7pm
CLOSED
2pm,
7pm
3pm,8pm
3pm
8pm
2pm 7pm

Phantom of the Opera

8pm
8pm
8pm
2pm,
8pm
8pm
2pm
8pm
CLOSED

The Present

7pm
7pm
1:30pm,
7:30pm
7pm
7:30pm
1:30pm
8pm
3pm

School of Rock

7pm
7pm
2pm,
7pm
7pm
8pm
2pm
8pm
1pm
7pm

Something Rotten!

7pm
7pm
2pm,
8pm
7pm
8pm
2pm
8pm
3pm 7pm

Waitress

7:30pm
7:30pm
2pm,
7:30pm
7:30pm
8pm
2pm
8pm
3pm 7pm

Wicked

7pm
7pm
2pm,
7pm
8pm
2pm,
8pm
2pm
8pm
2pm
7pm