Broadway Musical Into the Woods Hits Big Screen Christmas 2014
---
An opening date has been set for the forthcoming film adaptation of the Stephen Sondheim / James Lapine musical
Into the Woods
, and it looks like fans will have to wait quite awhile to see the beloved Broadway fairy tale on screen. Walt Disney Pictures announced that the movie is set to be released on December 25, 2014.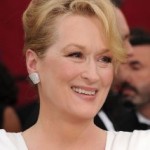 There has been a lot of speculation on the casting for
Into the Woods
over the last few months, as news has gradually trickled in. So far it is understood that Meryl Streep will play the Witch, Johnny Depp will play the Wolf, and James Corden (last seen on Broadway in
One Man, Two Guvnors
) will take on the Baker. It has been reported that Emily Blunt will play the Baker's Wife, Tracey Ullman could be Jack's Mother, and Chris Pine and Jake Gyllenhaal are likely to portray the two princes. A darkly funny and poignant mash-up of a variety of Grimm fairy tales,
Into the Woods
premiered on Broadway in 1987. There was a Broadway revival in 2002, and the musical was most recently seen at the Delacorte Theater as a part of Shakespeare in the Park last summer.