"Broadway in Bryant Park" Series Begins July 12th
Broadway In Bryant Park Kicks Off Today For The 18th Consecutive Year, With Lunchtime Summer Thursday Concerts From Broadway's Stars.
---
Performances in Bryant Park on Thursdays Throughout Summer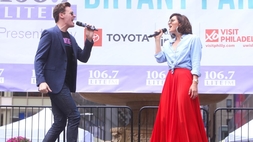 Today marks the beginning of the Broadway in Bryant Park summer series. Starting today, free performances will take place in this midtown park, which are open to the public, on six consecutive Thursdays throughout the duration of July and August.

From 12:30pm to 1:30pm, audiences can listen to some of the most exciting stars on Broadway, outside in Bryant Park, which is located at 6th Avenue between 40th and 42nd Streets. Lawn seating is on a first-come, first-served basis. The event is hosted by 106.7 LITE FM, which has been hosting this event for 18 consecutive years.

Broadway Alfresco Is A Treat For Fans

This special summer series welcomes theatre fans into an outdoor setting, offering an exciting break from the workday, and a great opportunity to learn more about the shows, both new and old, currently running on Broadway. Today's event kicks off with performances from four shows, hosted by 106.7 LITE FM's Helen Little.

Upcoming Performances
Representing Chicago will be Donna Marie Asbury, David Bushman, Jessica Ernest, Terra C. MacLeod, Barrett Martin, Katie Mitchell, Drew Nellessen, Beth Johnson Nicely, Brian O'Brien, Jermaine Rembert, and Michael Scirrotto. Then, representing SpongeBob SquarePants will be Danny Skinner, Jesse JP Johnson, Brian Ray Norris, and Jai'Len Christine Li Josey.

In addition, representing Stomp will be Alan Asuncion, Ivan Salazar, John Gavin, Josh Cruz, Kayla Cowart, Marivaldo Dos Santos, Simeon Weedall, and Taylor Lee. Finally, representing Waitress will be Katharine McPhee, Erich Bergen, Anastacia McCleskey, Brandon Kalm, Kayla Davion, Law Dunford, Molly Jobe, Tiffany Hobbs, and Tyrone Davis.
Additional Performances to Feature Many More Shows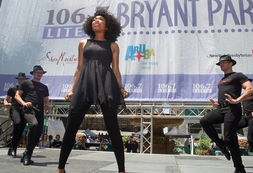 Next week, on July 19, 2018, performances will take place representing the shows Anastasia, Beautiful, Desperate Measures, and On A Clear Day You Can See Forever. That event will be hosted by 106.7 LITE FM's Rich Kaminski, along with the co-host Renée Taylor from My Life on a Diet, and a pre-show by Brooke Shapiro.

Then, on July 26, 2018, the show will take place hosted by the 106.7 LITE FM hosts Bob Bronson and Christine Nagy, along with co-hosts, the cast of The Play That Goes Wrong. With a pre-show from Mary Poppins Returns, the show will feature performances from the casts of Come From Away, Kinky Boots, The Band's Visit, and FRIENDS! The Musical Parody.

August roster of performances

Then, on August 2, 2018, the 106.7 LITE FM Host Delilah will lead a show with performances from Aladdin, Frozen, and The Lion King, The next week, on August 9, 2018, the cast of The Play That Goes Wrong will return to co-host along with 106.7 LITE FM host Victor Sosa. After the pre-show by VITALY: An Evening of Wonders, the performances will take place with songs from Avenue Q, Jersey Boys, Smokey Joe's Café, and Summer: The Donna Summer Musical.
Finally, the last show will take place on August 16, 2018, when 106.7 LITE FM host Delilah will return for a pre-show by Jordan Smith and Brooke Shapiro, followed by performances from Once On This Island, School Of Rock, and Wicked.
Logistical Information
All of these performances are subject to change, and new exciting additions may join as well. For all of these shows, seating on the grass begins at 11:00am. Blankets are permitted, but plastic material and tarpaulin are not allowed. If a performance is forced to cancel due to rain, performances will be reassigned to future dates if possible.
For the most up-to-date schedule, you can visit the 106.7 LITE FM website: https://litefm.iheart.com/featured/broadway-at-bryant-park/