Broadway Cat Wanted: Breakfast at Tiffany's Looking To Cast a Kitty
Breakfast At Tiffany's Director Sean Mathias Is Hoping To Cast A Live Feline To Star On Stage As Holly Golightly's Beloved Companion
---
Casting Live Cat For Iconic Role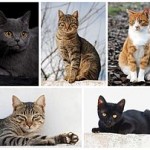 The forthcoming Broadway production of Breakfast at Tiffany's, Richard Greenberg's new play version of Truman Capote's famed novella-turned-film, has put out a casting call for a feline to play the role of "Cat" in the show.
Cat owners are invited to submit contact info and photos of their pet by sending an email to kittygolightly@oandmco.com. The casting call will take place during the week of February 11th.
"Breakfast At Tiffany's" On Broadway
"Holly Golightly's beloved companion, Cat, is one of the most famous felines in all of literature," stated Breakfast at Tiffany's director Sean Mathias. "We will search high and low until we find the perfect animal to take on this role."
Starring Emilia Clarke as Holly Golightly, the part made famous on film by Audrey Hepburn, Breakfast at Tiffany's will start performances on March 4 at Broadway's Cort Theatre.