Broadway Box Office Continues Downward Slide
Broadway Faces Trouble This Week As The Band's Visit, Dear Evan Hansen Are Not Performing Well. Straight White Men Faces Broadway Turmoil Amidst A Cast Shake-Up.
---
Bad News For Broadway Ticket Sales

Bad News on Broadway: Last Year's Tony Winner Outperforms This Year's Winner
For week ending July 8, 2018, Broadway box continued its downward trend. Of the 30 shows currently running, the cumulative box office gross was $33,865,380, which represents 78.36% of the collective gross potential, a decrease of $763,937 from last week.
The biggest decrease was seen by Angels in America, which went down by $226,998 from the week before, for it only played 6 performances, down from the usual 7. Summer also saw a big drop in mid-summer, going down by $206,575 to reach a weekly gross of $743,385, or 51.1% of its gross potential.
Carousel Goes Down, Not Up
Carousel went down by $176,063 to reach a weekly gross of $736,029, or 45.2% of its gross potential, and Come From Away went down by $117,187 to reach a weekly gross of $1,035,985, or 82.2% of its gross potential. The best performing show this past week in terms of gross potential was Dear Evan Hansen, which won the 2017 Tony Award for Best Musical.
It brought in a weekly gross of $1,625,796, which represents 113.7% of its gross potential, even though that was a decrease of $60,528 from the week before.
The Band May Need To End Its Visit

Interestingly, this year's 2018 Tony Award winner for Best Musical, The Band's Visit, is not performing quite as well, even though that win is much more recent.
The Band's Visit brought in a weekly gross of $1,051,109, which represents 101.9% of its gross potential, and which is a decrease of $61,059 from the week before. Therefore, even though this year's winner is performing better than it was before the awards, it is still not holding a candle to Dear Evan Hansen, which continues to move ticket buyers over a year after its big win.
Straight White Men Sees Decrease Amidst Cast Changes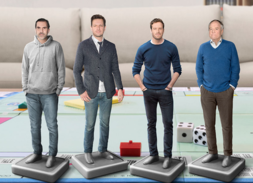 Straight White Men, by Young Jean Lee, played its first full week. The week before, it had played 3 performances, and brought in $128,458, representing 53.67% of its gross potential. However, with a full 8 performances, had a weekly gross of $302,222, representing just 47.35% of gross potential.

These numbers are made all the more interesting by the fact that the lead role of Ed, originally announced to be played by Tom Skeritt, was last minute given to Denis Arndt the week before the start of previews. As such, these first three performances represent the box office demand with Arndt in the cast.

More Casting Shake-Ups On Broadway
However, after just those three shows, Arndt dropped out due to creative differences, and Stephen Payne was brought in. As such, these eight performances this past week were performed with Payne in the lead. The show still has a big star in Armie Hammer, who plays one of Ed's sons, as well as the rest of the very accomplished cast.
Nevertheless, the initial press going into this run has had a tone of chaos. Rather than organization and anticipation, the general mood surrounding this production has been one of clamoring to stay afloat. As the first production of a play on Broadway by a female Asian American playwright, this show is already facing an uphill battle, and these casting issues have not helped the matter.
Discount Broadway Tickets
---
---