"Black to the Future" Concludes Performances
Lewis Black's Special Black To The Future Concluded Performances With Strong Box Office Success And A Television Special.
---
Lewis Black's One-Man Show Wraps Up Limited Engagement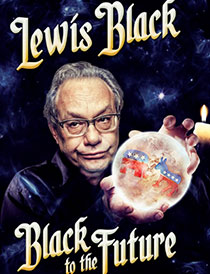 This past week, Lewis Black's one-man show "Black to the Future" played its final performance at the Marquis Theatre. The show played on Monday nights starting September 12, 2016, during the ongoing run of On Your Feet!: The Story of Emilio & Gloria Estefan.
Lewis Black is a comedian best known for his television appearances and live stand-up comedy tours. On Comedy Central, he hosted a series called "Lewis Black's Root of All Evil" in 2008, and he also made regular appearances on The Daily Show with Jon Stewart to perform his segment called "Back in Black."
Black Is No Stranger To Broadway
This is the second time he took his show to Broadway; the first was in 2012, when he also performed over a series of Monday evenings when the theatre was dark for a limited engagement in October. That show was called Running on Empty.
This recent Broadway outing, Black to the Future, includes a great deal of political commentary and humor, in addition to other jokes that are less time-sensitive. Wrapping up just in time for the election, Lewis Black enjoyed subjecting his followers to skewering of Donald Trump and comments on the general election. In addition to these two Broadway engagements, Black is no stranger to theatre. In fact, he began his career writing plays until the age of 40.
Comedy Central Aired One-Hour Special From The Show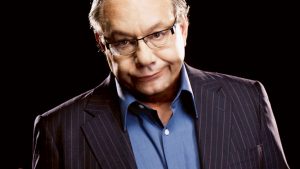 On October 7, 2016, Black to the Future reached a wider audience through a one-hour special airing on Comedy Central. The network that has given Black many of his television opportunities, Comedy Central, is also taking his Broadway show to the small screen.
Black is renowned for being outraged, which lends itself to his particular style of comedy. Comedy Central advertised the hour-long special as an event in which Black brings his signature style of frustrated comedy to discussing the political landscape.
Exaggerated Comedic Purpose
With topics including Ben Carson and the NRA, as well as the 2016 presidential election that they describe as being borderline apocalyptic, Lewis Black will not let anything stupid slide. Through exaggerating his anger for comedic purposes, Black has amassed a significant party of followers, and many were ecstatic to see his live show on television. The reviews were mixed, as Lewis Black's style is not for everyone.
However, for fans of this particular brand of comedy, it was an uproarious event. Some critiques including too much lag time in between punchlines, and a few jokes that didn't land. However, that's to be expected in comedy, and despite the temporal specificity of the political humor, there were also enough dirty jokes to give the special longevity past the air date.
Generally Positive Performance At The Box Office
In the final week of performances, the week ending October 30, 2016, Black to the Future brought in $137,677 in one show. This was on the low end for the six-week run, the peak of which took place on October 17, 2016, when the weekly (aka daily) gross was $171,884. Over the course of the run, the average percentage reached of gross potential was 89.38%, and the audience was filled up to 94.08% of its capacity.
With a top ticket price of $167.00, the average paid admission was $97.81 across the run. The box office was somewhat skewed by the generosity of Lewis Black, who offered reduced price tickets to some of his biggest fans through the F. U. C. K. U. program, which stands for the Frustrated Union of Cynical Kindreds Universal. When comedy comes to Broadway, it is helpful to bring in schemes to make the Broadway tickets more accessible to the built-in comedy audience.
Discount Broadway Tickets
---
---