Billy Crystal 700 Sundays Returns To Broadway
Billy Crystal Will Return To Broadway In A Limited Run Of His Autobiographical One-Man Show 700 Sundays At The Imperial Theatre Coming In November
---
Billy Crystal Returns To Broadway In One-Man Play "700 Sundays"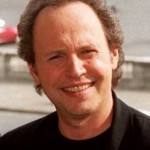 Film, TV, and occasional stage star Billy Crystal is coming back to Broadway once again with his one-man play 700 Sundays. Crystal will appear in the limited-run arrival, directed by Des McAnuff (Jersey Boys), at the Imperial Theatre from November 5, 2013 until January 5, 2014.
Written by Billy Crystal and Alan Zweibel, 700 Sundays originally played on Broadway in 2004 and 2005. The award-winning play is the autobiographical tale of Crystal's youth and emergence into adulthood and features him playing multiple characters.
A Universal Story Of Pain And Joy
"When we originally opened on Broadway, all I knew was that I had a story that I was compelled to share," stated Billy Crystal about his experience with 700 Sundays. "Now that I've performed my play across the country and internationally, I'm gratified to know that the love of family, through joy and pain, is perhaps the most universal story. I've now decided to tell this story one last time in my own backyard, where it all took place."