Bette Midler's "Hello, Dolly!" Begins Previews at the Shubert Theatre
On March 15, 2017, Hello, Dolly! Eagerly Began Previews At The Shubert Theatre On Broadway, It Began A Month Ahead Of An Official Opening Night Scheduled For April 20, 2017
---
Broadway Revival of 1964 Musical Stars Bette Midler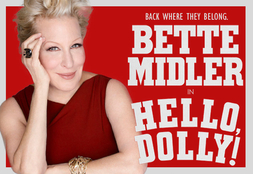 On March 15, 2017, Hello, Dolly! began previews at the Shubert Theatre, ahead of an official opening night scheduled for April 20, 2017. This marks the fifth Broadway production of the celebrated musical that debuted in 1964, when it tied the record at the time (with South Pacific) for the most Tony Award wins with 10 awards, a record that remained for 37 years until 2001 with The Producers' 12 wins. That first production starred Carol Channing in the title role. The first revival of the musical took place in 1975 starring Pearl Bailey leading an all-black cast.
In 1978, another revival took place starring Carol Channing again, and the next revival was mounted in 1995 starring Carol Channing yet again. Now for the first time in almost forty years, a new leading lady is tackling the challenge of this role on Broadway: Bette Midler. One of the most celebrated actors of her generation, Midler made her Broadway debut in 1967 as a replacement for the role of Tzeitel in Fiddler on the Roof. Less than a decade later, in December 1973, she was already performing her first of several solo concert performances on Broadway.
A Closer Look at the Show's Lead Actress on Broadway
In 1975, Midler starred in a revue called Bette Midler's Clams on the Half Shell Revue, and in 1979 she returned with Bette! Divine Madness. She was a producer of the 2011 production of Priscilla, Queen of the Desert, and then returned with another one-woman show, but this time in character, for the 2013 production of I'll Eat You Last: A Chat with Sue Mengers. And yet, until now with the present revival of Hello, Dolly!, Bette Midler has not ever taken on the lead role of a full-scale Broadway musical.
"Hello, Dolly!", an Enduring Musical Hit - on Stage, Screen, and Song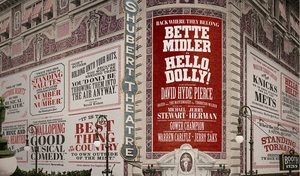 Hello, Dolly! is the story of a meddlesome widow who endeavors to bring romance to the lives of several couples as well as herself. It is based on Thornton Wilder's 1955 play The Matchmaker, which was in turn based on his own 1935 flop The Merchant of Yonkers, which was in turn based on John Oxenford's 1835 play A Day Well Spent and Johann Nestroy's German farce He Will Go on a Spree. Hello, Dolly! was adapted into a successful film in 1969, winning three Academy Awards. Nevertheless, perhaps the most enduring medium for Hello, Dolly! has been song.
Beyond the success of the original cast recording from 1964, which was inducted into the Grammy Hall of Fame in 2002, the title song has remained steadfast in our collective memory first and foremost due to Louis Armstrong's beloved version of the song. Armstrong recorded this song in 1964, before the musical was even produced on Broadway. Prior to then, the show had other working titles such as Dolly, A Damned Exasperating Woman (which would likely not have endured so well), as well as Call on Dolly.
The Broadway Cast Album Ranked Number One in 1964
When the original producer David Merrick heard Louis Armstrong's cover of the song from the show, "Hello, Dolly!" he immediately changed the name. One week after the cast album reached number one on the Billboard chart in June 1964, it was replaced the following week by Louis Armstrong's album Hello, Dolly!, which contained the title song. At that time, Armstrong, at age 62, became the oldest person ever to reach number one on the Billboard charts.
In any case, Hello, Dolly! is more than a memorable song. It is a classic musical with book by Michael Stewart and music and lyrics by Jerry Herman, which is presently being revived in a production directed by Jerry Zaks and choreographed by Warren Carlyle. Starring opposite Bette Midler are David Hyde Pierce, Gavin Creel, Kate Baldwin, and Taylor Trensch.
Discount Broadway Tickets
---
---