Bee Season: Welcome the Bees and Their Hives Back to New York
New York City Is Abuzz With Excitement As The Board Of Health Recently Voted To Legalize Beekeeping In The City, Overturning Past Restrictions That Classifies Honeybees As Dangerous
---
Bees Make a Comeback in New York City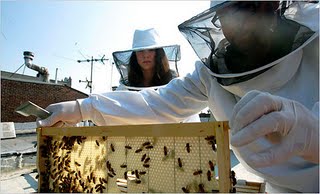 Get your buzz on: Bees are making a re-entry into New York City. Last week, the Board of Health in New York voted to once again make beekeeping legal in the city. (Whoo hoo! And for the record, who knew it wasn't?) Why, you may ask, were the bees not previously free to show their stripes in our fair city? Well, laws defined honeybees as--are you ready? Dangerous wild animals. Yes, bees and rampaging grizzles, joining forces once again.
The fine for operating a hive in the city was as much as $2,000. Despite it, many beekeepers (and, don't tell, one or two restaurants) still raised bees here. (Estimates put the number of beekeepers in New York at about 600, but it's hard to really know.) Cities including Seattle, San Francisco and Chicago already allow hives in their cities. Now, beekeepers will have to register with the city, but they will not have to be licensed.
Legalization of Beekeeping Boosts Conservation Efforts
The new ruling is good news not just for the beekeepers, but also for the bees: Since 2006, a largely unidentified problem has been destroying bee colonies in North America. This collapse has caused a chain reaction that has affected honey production; and, in turn, foods that are made or sweetened with honey. And, oh yes, if beekeeping has now piqued your interest and you're looking for the names of famous beekeepers, look no further than the White House: The Obamas have a colony in the organic garden there.
Discount Broadway Tickets
---
---