Barry Manilow To Play Broadway
---
Following in the steps of other crooners that have recently taken on Broadway, such as Harry Connick Jr. and Frankie Valli, Grammy Award-winning singer/songwriter Barry Manilow is coming to Broadway's St. James Theatre in early 2013 with
Manilow on Broadway
. Manilow's Broadway concert engagement is scheduled to include a total of 17 performances, taking place from January 18 to February 9. The official opening night will take place on January 24.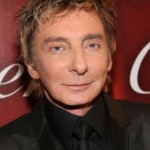 New York City native Barry Manilow, who has sold approximately 80 million records over the years, is no stranger to musical theater, having penned the scores to musicals
Copacabana
and
Harmony
. But he is best known for his multitudes of chart-topping pop hits, particularly in the late '70s and early '80s. Manilow's most loved songs include "Mandy," "Could It Be Magic," "Copacabana (At the Copa)", and "Looks Like We Made It". Referring to his upcoming Broadway concerts, Barry Manilow has stated that, "Growing up in New York, Broadway has always held a special place in my heart and I am honored to have the opportunity to make the St. James Theatre my home in the New Year." For
Manilow on Broadway
tickets and to learn more about the concert, visit ManilowOnBroadway.com.