"Band's Visit" and "Once on This Island" Cast Albums
The Band'S Visit Has Released Its Album Digitally, With Hard Copies Coming In Early 2018, And Once On This Island Will Release Their Album In February 2018.
---
"The Band's Visit" Cast Album Digital Release December 15th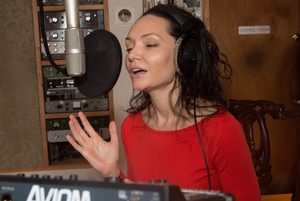 Of all the new musicals this season, The Band's Visit may very well be one of the strongest contenders for Best Musical. The show earned excellent reviews, and has been selling very well at the box office. In the lead-up to awards season, The Band's Visit is adding another selling point to its excellent reputation: the Broadway cast album.
Yesterday, December 15, 2017, the show's cast album was released on both digital and streaming formats. In early 2018, the album will drop at music stores, online, and will be available for purchase in the theatre. It can be pre-ordered through Ghostlight Records.
Book By Itamar Moses
The musical has a book by Itamar Moses, with music and lyrics by David Yazbek, based on the screenplay for the Israeli film of the same name by Eran Kolirin. The musical stars Katrina Lenk (Indecent, Once), in a highly lauded performance, along with Tony Shalhoub (The Price, Act One, Golden Boy, Lend Me a Tenor), George Abud (The Visit), Etai Benson (Wicked), John Cariani (Something Rotten!, Fiddler on the Roof), and Adam Kantor (Fiddler on the Roof, Next to Normal).
The show is directed by David Cromer. The songs include "Waiting," "Welcome to Nowhere," "It Is What It Is," "The Beat of Your Heart," "Soraya," "Omar Sharif," "Haj-Butrus," "Papi Hears the Ocean," "Haled's Song About Love," "The Park," "Itgara," "Something Different," "Itzik's Lullaby," "Answer Me," "The Concert," and a bonus track, "Afifi."
"Once On This Island" Cast Album Coming February 2018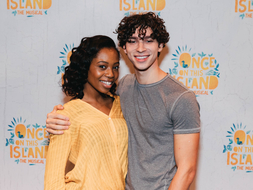 Meanwhile, another new musical production from this season, although this one is a revival, has announced the release of its cast album.
Once on This Island, in a production directed by Michael Arden, and starring Merle Dandridge, Quentin Earl Darrington, Hailey Kilgore, Alex Newell, Lea Salonga, Phillip Boykin, Derlesia Cearcy, Rodrick Covington, and Emerson Davis, will release its cast album on February 23, 2018, courtesy of Broadway Records.
Based On A Novel By Rosa Guy
The show has book and lyrics by Lynn Ahrens, with music by Stephen Flaherty, based on the novel My Love My Love; Or, The Peasant Girl by Rosa Guy. The cast recording will be produced by Lynn Ahrens and Stephen Flaherty, along with Elliot Scheiner, Hunter Arnold, and Ken Davenport. The album can be pre-ordered at BroadwayRecords.com.
Songs from this show include "One Small Girl," "Waiting for Life," "And the Gods Heard Her Prayer," "Rain," "Pray," "Forever Yours," "The Sad Tale of he Beauxhommes," "Ti Moune," and "Mama Will Provide." This show also earned excellent reviews, although box office has been slower to take off than for The Band's Visit.
Tony Award Nominations
Unlike that show which is a new musical, this revival of Once on This Island is less exciting only because the show first premiered in 1990. While the original production was nominated for eight Tony Awards, including Best Musical, Best Book of a Musical, Best Original Score, and Best Direction of a Musical, it did not end up winning any of the awards.
Time will tell whether this revival fares any better than the premiere production did, but a successful cast album can go a long way to sway the Tony voters, especially in the race for such awards as Best Orchestrations, Best Revival of a Musical, and Best Performance for the lead and featured performers.