"Angels in America" Revival Earns Rave Reviews
Marianne Elliott's production of Tony Kushner's Angels in America opened to excellent reviews, but the box office is still lagging.
---
Marianne Elliott Directs Tony Kushner Classics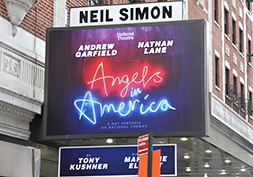 On March 25, 2018, Angels in America: A Gay Fantasia on National Themes opened at the Neil Simon Theatre, where it had been running in previews since February 23, 2018. These two plays – each titled Millennium Approaches and Perestroika, respectively – have been racking up accolades since they premiered in 1993, including that year's Pulitzer Prize for Drama and Tony Award for Best Play for Millennium Approaches, followed by the Tony Award for Best Play for Perestroika in 1994. Now revived on Broadway for the first time, these productions are directed by Marianne Elliott, a British director who has previously had vast success with transfers from London's National Theatre, including War Horse and The Curious Incident of the Dog in the Night-time. For Angels in America, the cast includes Andrew Garfield as Prior Walter, Nathan Lane as Roy M. Cohn, Susan Brown as Hannah Pitt, Denise Gough as Harper Pitt, Amanda Lawrence as the Angel, James McArdle as Louis Ironson, Lee Pace as Joseph Pitt, and Nathan Stewart-Jarrett as Belize. The shows have music by Adrian Sutton, scenic design by Ian MacNeil, costume design by Nicky Gillibrand, lighting design by Paule Constable, sound design by Ian Dickinson and Autograph, and puppet design by Finn Caldwell and Nick Barnes. The shows are scheduled to run until July 1, 2018.
Rave Reviews from Critics All Around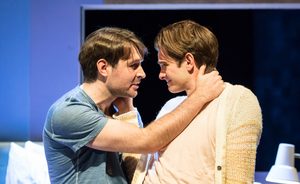 In his review of Angels in America, Ben Brantley from The New York Times absolutely loved this production, comparing it to a much-need blood transfusion. He called it "flat-out fabulous" and deemed the cast "top-flight," doing justice to Tony Kushner's "masterwork" in this 25th anniversary production. Greg Evans from Deadline was equally enamored, doubling up on the usage of the term "masterwork" in describing how this play "remains as rich a theatrical experience as when Kushner won the Pulitzer back in '93 and his eccentric, visionary fever dream first blessed the stage." He argued that Kushner's piece about the Reagan era is more timely now than ever. Marilyn Stasio from Variety was also a huge fan, relishing in the show's prescience, and stating that it does not feel like a historical artifact, but rather more like "picking up a scorching hot ember from a fire that won't burn out." Allison Adato from Entertainment Weekly agreed with her peers in praising this revival, stating that "this renewed reminder that the world will spin forward also through these troubled times feels especially welcome."
Not as Easy a Sell to Audiences
While Angels in America is a slam dunk critically, it is not a sold-out show at this stage. Perhaps it has to do with the intense 7.5 hour length between the two productions, coupled with the fact that it is a revival. But in any case, this past week saw a downward trend in box office for this show. In the week ending March 25, 2018, Angels in America went down by $245,890, reaching a weekly gross of $549,003 over 7 performances, which represents 38.69% of its gross potential. This is also affected by the week of press previews, in which many free tickets may have been given out to fill out the theatre and maximize the sense of a full house. This is demonstrated by the high average audience capacity this past week of 97.0%, and the low average paid admission of $56.83. The week before, the show brought in a weekly gross of $794,893 over 6 performances, which represents 64.65% of its gross potential. That week, the audience capacity was also relatively high at 94.8%, and the average paid admission was more down the middle at $98.27. Overall to date, the average paid admission is $85.99, and the show has brought in an average of 57.43% of its gross potential. It can only be hoped that these dazzling reviews will lead to an increase in box office demand as the show goes on.