"Angels in America" Extends for Two More Weeks
The Broadway Revival of Angels in America Has Extended for 2 Weeks After Earning 11 Tony Nominations, the Most of Any Play in History.
---
Two Weeks More For Limited Engagement of Angels in America revival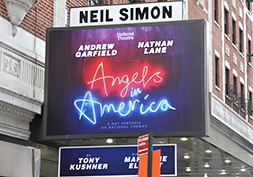 On February 23, 2018,
Angels in America
began previews at the Neil Simon Theatre, ahead of its opening night on March 25, 2018. At that time, the show was scheduled to run until July 1, 2018. However, on the heels of the show's 11 Tony Award nominations, the producers have announced that the duo of plays will extend for an additional two weeks. The closing date is now scheduled for July 15, 2018.
Angels' Road Back to Broadway, Casting Breakdown
This is the first Broadway revival of this highly lauded contemporary classic, since its debut in 1993. Written by Tony Kushner, Angels in America is actually two separate plays, Angels in America: Millennium Approaches and Angels in America: Perestroika, and both are subtitled A Gay Fantasia on National Themes. This production is directed by Marianne Elliott, the British director who has made a name for herself in helming ambitious plays with large ensemble casts that do very well in the transfer over the Atlantic. Her previous Broadway directing credits include War Horse and The Curious Incident of the Dog in the Night-time.

The cast is led by a phenomenal group of actors. Andrew Garfield plays Prior Walter, Nathan Lane plays Roy M. Cohn, Susan Brown plays Hannah Pitt, Denise Gough plays Harper Pitt Amanda Lawrence plays The Angel, James McArdle plays Louis Ironson, Lee Pace plays Joseph Pitt, Nathan Stewart-Jarrett plays Belize, and the Angel Shadows are played by Rowan Ian Seamus Magee, Matty Oaks, Genesis Oliver, Jane Pfitsch, Lee Aaron Rosen, Ron Todorowski, Silvia Vrskova, and Lucy York.
11 Tony Nominations Including Best Revival of a Play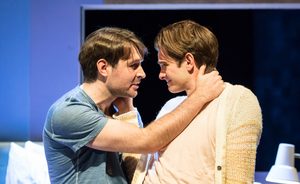 Angels in America
made out swimmingly, earning 11 nominations, which ties for the second most of any show. This is the most nominations ever earned for any play in the history of the Tony Awards. These nominations were for: Best Revival, Best Actor forGarfield, Best Featured Actor for Lane, Best Featured Actress for Brown and Gough, Best Original Score for Adrian Sutton, Best Scenic Design for Ian MacNeil and Edward Pierce, Best Costume Design for Nicky Gillibrand, Best Lighting Design for Paule Constable, Best Sound Design for Ian Dickinson and Best Direction of a Play for Marianne Elliot.
The biggest award is Best Revival, for which Angels in America is competing against Three Tall Women, The Iceman Cometh, Lobby Hero, and Travesties. Audience members now have 2 more weeks to catch this incredible play suite.