Andrew Lloyd Webber's "Cats" Prowls onto Broadway
Cats Returns To Broadway After Being The Longest-Running Show For Some Time, Now The Fourth Longest-Running Show.
---
The Fourth Longest-Running Show In History Is Back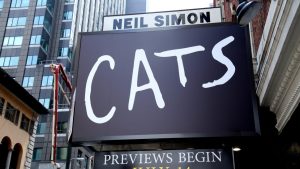 Cats made its Broadway premiere in 1982, winning 7 Tony Awards including Best Musical. This followed its world premiere in London's West End in 1981. That Broadway production ran for a record-breaking 7,485 performances, closing on September 10, 2000. From 1987 to 2006, Cats held the honor of the longest running show on Broadway.
In 2006, however, it was surpassed by The Phantom of the Opera, which now holds that title, having been running since 1988. Presently, Cats holds the title of the fourth longest running show of all time.
Second Broadway Production Of "Cats"
The second-longest running is the present production of Chicago, which has been running since 1996, and the third-longest running is The Lion King, which has been in performances since 1997. The 2016 revival is therefore only the second production ever on Broadway of Cats, which has a score by Andrew Lloyd Webber (School of Rock – the Musical, Evita, Jesus Christ Superstar, The Phantom of the Opera, Joseph and the Amazing Technicolor Dreamcoat, Sunset Boulevard).
The show is based off a book by T.S. Eliot called Old Possum's Book of Practical Cats, and the lyrics for the musical are also credited to T.S. Eliot. Additional lyrics for two of the show's greatest songs, "Jellicle Songs for Jellicle Cats" and "Memory," are credited to Trevon Nunn, the director of the original production, who is also reprising his role as director for the 2016 revival.
You Either Love It Or You Hate It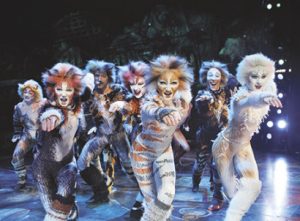 Cats is one of those polarizing shows that people either love, or they heartily dislike. Despite running for an epic 18 years, this musical about anthropomorphic felines has received its fair share of criticism and jokes over the years.
Despite its serious undertones, it features an ensemble of humans dressed up as large cats. Parodies have abounded in the past few decades, ranging from cartoon recreations on The Simpsons to spoof advertising on comedic mainstay Saturday Night Live.
Fresh Twists On A Classic
Still, the 2016 revival has some new tricks up its sleeve. Like the original, this production comes to the U.S. after a premiere in London; it was revived in 2015 followed by a U.K. national tour.
Among its novel additions, this revival features the classic spotlight lover, Rum Tum Tugger which has been reinvented into an urban young cat, instead of a rock star style ladies man. Furthermore, the choreographer, Andy Blankenbuehler, has reworked the original choreography by Gillian Lynne and infused it with more contemporary jazz and funk, derived from each individual cat character.
A Cast Of Reality Stars And Top Talent
Among the lead performers in this revival of Cats are several who made a name for themselves on talent reality television shows. For instance, the role of Grizabella, who sings the timeless song "Memory," is played by Leona Lewis making her Broadway debut. She is now a chart-topping singer in Britain, and originally came to the scene via the television show X Factor.
Talented Cast
While Cats may be better known for its songs than its dancing, there are also two former contestants on the show So You Think You Can Dance among the cast. These are Jess LeProtto (On the Town, Newsies, Bye Bye Birdie) as Mungojerrie and Ricky Ubeda (On the Town) as Mistoffelees.

Among the many other performers, there are Giuseppe Bausillo as Carbuckety, Christine Cornish Smith as Bombalurina, Quentin Earl Darrington as Victor and Old Deuteronomy, Jeremy Davis as Skimbleshanks, Kim Fauré as Demeter, Sara Jean Ford as Jellylorum, Lili Froehlich as Electra, Daniel Gaymon as Plato and Macavity, Shonica Gooden as Rumpelteazer, and Emily Tate as Tantomile.