"Anastasia" Musical Opens On Broadway to Mixed Reviews
Anastasia Opened At The Broadhurst Theatre On Broadway To Mixed Reviews, But Box Office Is Thriving, Even Though The Show Was Only Nominated For Two Tony Awards, Audience Reaches Capacity
---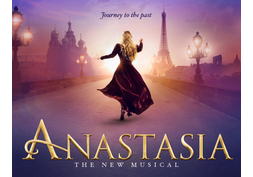 Based on the Twentieth Century Fox Animated Film
Anastasia, the new Broadway musical, is now up and running at the Broadhurst Theatre, where it has been stationed since it began previews on March 23, 2017. Upon its opening night, the show received positive reviews from many critics, but strongly negative reviews from others. The musical has a book by Terrence McNally (The Visit, It's Only a Play, Mothers and Sons), as inspired by the Twentieth Century Fox motion picture of the same name.
The score is composed by Stephen Flaherty, with lyrics by Lynn Ahrens; this same duo wrote the songs to such shows as Rocky, Ragtime, and Seussical. The show is directed by Darko Tresnjak, who won a Tony Award for Best Direction of a Musical for A Gentleman's Guide to Love and Murder in 2013; that is his only prior Broadway directing credit. The show is choreographed by Peggy Hickey, with the musical supervisor Thomas Murray. The title role of Anya is played by Christy Altomare, with additional roles played by Derek Klena, John Bolton, Ramin Karimloo, Caroline O'Connor, Mary Beth Peil, Zach Adkins, Sissy Bell, Lauren Blackman, and an ensemble.
The New York Times Despised "Anastasia," But Others Enjoyed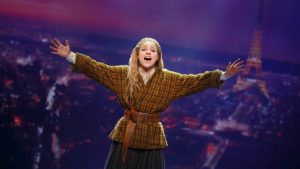 Upon attending a performance leading up to opening night, Ben Brantley from The New York Times expressed a general sense of being appalled at the musical. He began by called the title character of Anastasia "amnesiac," and while he gave an underhanded compliment to the scenic design by calling it "postcard-scenic," he concluded that the show had multiple personality disorder. However, Matt Windman of AM New York was much more forgiving, calling it uneven but well-meaning and mostly pleasant, and comparing it to an amalgam of My Fair Lady, Newsies, and Les Misérables.
David Quinn from NBC New York also was a fan, beginning by calling Anastasia a "bright new star" on Broadway, and then referring to Christy Altomare's performance as "star-making." Caitlin Brody from Entertainment Weekly was more on the fence, calling it "fidget-inducing" at the lengthy run-time of 2 and a half hours, even though the original animated film was only 94 minutes.
"Anastasia" Thrives Despite Mixed Reviews
Still, Adam Feldman from Time Out New York was much more keen on the show, as he enjoyed the storyline of a heroine trying to find herself set against the thrilling backdrop of the Russian Revolution and 1920s Paris. All in all, the show received mixed reviews, but despite the truly dissatisfied critical response from some publications, the box office is thriving.
Only Two Minor Tony Award Nominations, but Excellent Broadway Box Office
Despite being a big-budget, ambitious musical, Anastasia was not nominated for the Tony Award for Best Musical, nor for any of the other most prestigious awards such as Best Score, Best Direction, Best Book, or any of the lead acting categories. Instead, the musical just received two Tony Award nominations: Mary Beth Peil earned a nomination for the award for Best Performance by a Featured Actress in a Musical for her portrayal of Dowager Empress, and Linda Cho was nominated for Best Costume Design of a Musical.
Still, despite mixed reviews and minimal Tony recognition, the box office is thriving, presumably based on the brand name recognition of the title as well as the family friendly content. Over the nine weeks the show has been running thus far, it has brought in an average of 94.40% of its gross potential. This past week, the week ending May 21, 2017, the weekly gross was $1,120,135, or 97.91% of its gross potential, which is the second highest gross the show has earned of the run to date. The highest weekly gross took place in the week ending April 16, 2017, when it brought in $1,207,938, or 104.99% of its gross potential.
"Anastasia" on Broadway Brings Impressive Attendance
Over the course of the run thus far, the average paid admission has been $119.26, and the audience has been filled up to an average of 99.56% of capacity. These numbers are certainly nothing to whine about, so it looks like Anastasia may continue to be a Broadway offering for a while yet.
Discount Broadway Tickets
---
---