An American in Paris Opens on Broadway - March 2015
An American In Paris, Directed And Choreographed By Christopher Wheeldon, Begins Previews On March 13, 2015 At The Palace Theatre, After A Run In Paris.
---
A Gershwin Musical Based On A Film Based On A Symphony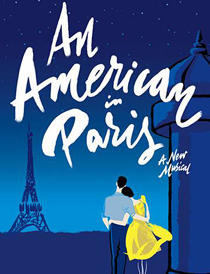 In 1928, George Gershwin wrote a symphonic poem entitled "An American in Paris" based on his travels in Paris in the 1920s. Influenced by both jazz and the blues, the musical piece was intended to show the experience of an American walking around the French capital, taking in its sights and sounds.
In 1951, a film adaptation was made of this symphony starring Gene Kelly and Leslie Caron. The film incorporates several Gershwin classics such as "I Got Rhythm," "'S Wonderful," and "Our Love is Here to Stay."
"An American In Paris" Adapted For The Stage
Directed by Vincente Minnelli from a script written by Alan Jay Lerner, the film was a major hit, winning the Academy Award for Best Picture among many other honors, and bringing in almost $7 million at the box office.
Now, for the first time, An American in Paris has been adapted for the stage. Directed and choreographed by Christopher Wheeldon, the show premiered in Paris on November 22, 2014, and ran there at the Theatre du Chatelet until January 4, 2015. Now, the show has finally come to Broadway, with its first preview having taken place on March 13, 2015 at the Palace Theatre.
An All-Star Creative Team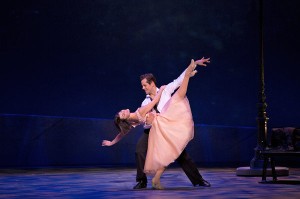 The director and choreographer Christopher Wheeldon is making his Broadway directorial debut. He has choreographed once before on Broadway, for Sweet Smell of Success in 2002. However, he is widely considered one of the world's most coveted and respected ballet choreographers.
He trained at the Royal Ballet and then the New York City Ballet, and in 2001 he was honored as the City Ballet's first choreographer in residence. In 2006, he founded his own ballet company, Morphoses.
Produced By Stuart Oken
The producer Stuart Oken invited Wheeldon to direct this musical, and it took some convincing, as he had never directed actors before. However, he eventually agreed. In addition to music and lyrics by George and Ira Gershwin, the show has a new book by Craig Lucas (Prelude to a Kiss, The Light in the Piazza, Reckless).
In addition, Bartlett Sher (South Pacific, The King and I) is a creative consultant for the show. Wheeldon and Lucas developed a 60 page treatment of the show together before the Gershwin estate agreed to let the producers continue developing the show. Unlike the film, which is set in the 1950s, Lucas and Wheeldon decided to set their An American in Paris in the time just after World War II. Furthermore, they made other changes such as making Lise, the main character, a ballet dancer, and also having her relationship with her composer friend Adam more central to the story.
An American In Paris Set For Open-Ended Run
The story centers around a young man named Jerry Mulligan (Robert Fairchild), who has just completed his time in the World War II army. He decides to move to Paris, which has been recently liberated, to make his life as a painter. He is helped out by another ex-pat, a wealthy woman named Milo Davenport (Jill Paice) who has a past she does not want to remember.
Things become complicated for Jerry when he meets Lise (Leanne Cope), a beautiful Parisian girl who works in a shop. Jerry's friends Adam (Brandon Uranowitz), a Jewish-American composer, and Henri (Max von Essen), a French aristocrat, also have romantic interests in Lise. Only through the beauty of dance and music can this love triangle be reconciled. An American in Paris is set to open on April 12, 2015, and will continue for an open-ended run.