"An Act of God" Returns with Sean Hayes
An Act Of God Began Previews For Its Second Summer In A Row, Starring Sean Hayes In The Role Formerly Played By Jim Parsons.
---
Hit Comedy Comes Back To Broadway With New Star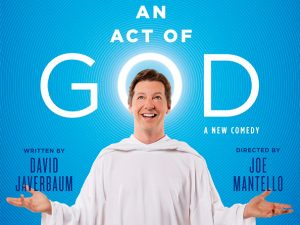 Last summer, from May 7 to Aug 2, 2015, David Javerbaum's play An Act of God delighted Broadway audiences. It was one of only five shows from the 2015 to 2016 season that recouped its capitalization, spurred on by the small-scale nature of the show and the excellent reception given to its beloved star, Jim Parsons.
However, it was not Parsons alone that made this show a hit. The show has been playing theatres around the country, starting in Los Angeles and San Francisco, starring Sean Hayes in the lead part of "God."
"An Act Of God" Receives Excellent Reviews In Los Angeles
The show received excellent notices out West. Upon its opening on Ash Wednesday at Los Angeles' Ahmanson Theatre, Variety said that if the opening night audience is any indication, you should see the show and "laugh your ash off." Sean Hayes is now returning with the show to Broadway, where he will play for a limited engagement from May 28, 2016 to September 4, 2016.
Official opening night is set for June 6, 2016. Like the earlier Broadway run, as well as the national tour, An Act of God is directed by Joe Mantello, whose previous Broadway credits include Blackbird, The Humans, Airline Highway, The Last Ship, and Casa Valentina – and that is all just in the last two years. Meanwhile, the writer David Javerbaum has won 13 Emmy Awards, primarily for his role as a staff writer at The Daily Show with Jon Stewart.
Will Sean Hayes Bring In As Much Box Office as Jim Parsons?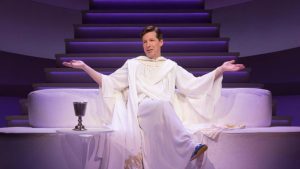 In its first partial week of just two preview performances, the new incarnation of An Act of God brought in $122,461 at the box office, which represents 63.60% of its gross potential. In comparison, back in May 2015, when Jim Parsons debuted the role on Broadway in a partial week of 4 performances, the weekly gross was $477,703, or 93.01% of its gross potential.
The lowest week of Parsons' run was the week ending May 31, 2016, which reached 68.8% of its gross potential.
"An Act Of Good" Losing Interest
However, overall the run was quite lucrative, with an average percentage reached of gross potential of 88.10% across the 12 and a half weeks. It is possible that Sean Hayes may not be as successful financially, and possibly not due to his own lack of popularity. The second year in a row, the show will naturally have saturated much of its interest, especially from local theatregoers, and potentially from a bulk of the tourists as well.
Both Parsons and Hayes are big television stars, and both have won Emmys; Parsons is best known for The Big Bang Theory, and Hayes is best known for Will & Grace. Furthermore, both have appeared on Broadway before. Parsons has been seen in Harvey and The Normal Heart, and Hayes was on Broadway once before: in the 2010 to 2011 production of Promises, Promises, which earned him a Tony Award nomination. Parsons only received a Drama Desk nomination, but no Tony nod, for his turn in The Normal Heart.
A Light-Hearted Take On Religion Thrives On Broadway
If The Book of Mormon is any indication, Broadway audiences take heartily to religious material, when it is done satirically but not quite offensively. More straightforward religious fare, such as Leap of Faith, have trouble finding their footing and often close early at a loss. Nevertheless, David Javerbaum is a top-class satirist, both with his experience as a television writer, and also with the book that preceded An Act of God, which was entitled The Last Testament: A Memoir by God.
He also had a lot of success with last summer's Broadway run of An Act of God by running their twitter account from the voice of God: @TheTweetOfGod. As for Broadway experience, Javerbaym is no newbie; he also wrote the music and lyrics for Cry-Baby, which played on Broadway in 2008.
Discount Broadway Tickets
---
---