"Amazing Grace" Begins Previews on Broadway
Amazing Grace Began Previews On June 25, 2015. Its Early Box Office Figures Were Not Promising. It Will Officially Open On July 16, 2015.
---
A Summer Opening And A Risky Financial Bet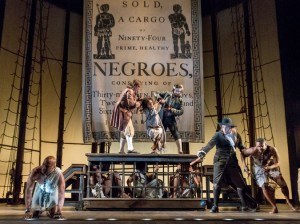 On June 25, 2015, a new musical called Amazing Grace began previews at the Nederlander Theatre. It was given this slot following the closure of Honeymoon in Vegas, another new musical that ran only 4 months before shuttering. Amazing Grace has been in development for many years, and its creator is a first-time Broadway writer.
Christopher Smith was a former cop when he began developing this show, for which he is the lyricist, composer, and co-bookwriter along with Arthur Giron.
A Long Time Development For First-Time Broadway Writer
He was inspired by the original story of the writing of the song "Amazing Grace," and henceforth sprang this show through years of trial productions and re-crafting to prepare it for the large and demanding audiences of Broadway. In choosing to begin previews in late June, the show's producers have made it more difficult for the show to succeed financially.
Traditionally, Broadway shows open in waves in two seasons: the fall and the spring. Then, the crucial factor of the Tony Awards in early June can make or break a show. In the warm summer season, producers expect the audience to be made up of a higher proportion of tourists, who tend to flock to the longer-running established musicals, rather than an unknown show with no big names. Therefore, Amazing Grace will have a tough time standing out with all of these factors against it.
A Cast Reckoning With The Portrayal Of Slavery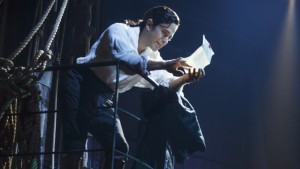 The founding story of the song "Amazing Grace" is indelibly tied to the history of slavery. The song's writer John Newton was a slave trader who then had a crisis of faith and became a full-fledged abolitionist.
This song, which is commonly known as having originated with the slave population, was actually written by a white man. Nevertheless, the cast is principally made up of black actors who are portraying slaves.
"Amazing Grace" Hopes To Attract Non-Traditional Demographic
In contemporary society which embraces more and more color-blind casting, and certainly frowns upon the idea that black actors can only portray slaves and house servants, this show walks a fine line between pride and shame. These actors are asked to go deep within themselves to find how it felt to be a slave, in order to make a larger point about equality and the struggle for freedom.
This is a plea that still resonates very strongly today in our society, which sadly still wrought with outbreaks of racially motivated violence. In any case, the producers of this show hope to attract audiences that might not be the traditional Broadway demographic. They are conducting targeted outreach to church groups and African American groups, in order to bring this powerful story to a new group of Broadway theatregoers.
Initial Difficulty At The Box Office
In the show's first partial week of performances, in which it played five shows, Amazing Grace brought in $200,392, which represents only 29.21% of its gross potential. With a top ticket price of $197.00, the average paid admission was $57.57. The audience was filled up to an average capacity of 59.9%.
Though it is too early to determine the financial fate of this production, the early figures are not extremely promising. Of course, when the show opens on July 16, 2015, it will receive wide press coverage, and then the quality of the reviews may be able to make or break the show.
Competitive Summer Season
However, in the hubbub of the summer season, it will still be difficult to break through, especially in targeting an untraditional Broadway audience. Nevertheless, the producers are holding out that their hard work will pay off, so that this show about hard work and faith will be an inspiration to Broadway audiences.