"Alton Brown: Eat Your Science" Plays Limited Run
Alton Brown Made A Stop On His National Tour On Broadway For Alton Brown: Eat Your Science, Which Was Received With Modest Reviews.
---
Food, Science, Comedy, And A Lot Of Intrigue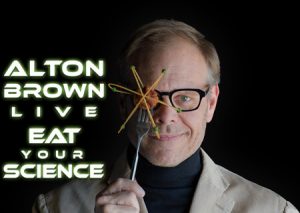 Alton Brown is best known for creating and hosting the Food Network television show "Good Eats," which ran for 14 seasons from 1998 to 2012. Since then, he has hosted many other shows including "Feasting on Asphalt," "Feasting on Waves," "Iron Chef America," and "Cutthroat Kitchen."
He is also a best-selling authors, whose books include the I'm Just Here for the Food series, Alton Brown's Gear for your Kitchen, Good Eats and its two follow-up books, EveryDayCook, and Feasting on Asphalt: The River Run.
Alton Brown: A Man Of Many Talents
If that wasn't enough, he is also a songwriter and singer, whose last CD was called Bitter Like Me. With all of these accomplishments behind him, it only made sense for him to return to his roots: theatre. Alton Brown actually began his career as a theatre student, studying at a small school in Georgia and then transferring to study film at the University of Georgia.
Therefore, it must feel like coming full circle for Brown, who played a limited engagement at Broadway's Barrymore Theatre this past week, from November 22 to 27, 2016. This wacky show – Alton Brown: Eat Your Science – combined food, comedy, and science, along with a fair amount of audience interaction, to bring a new kind of show to Broadway.
A Culinary Variety Show On Tour With A Pit Stop On Broadway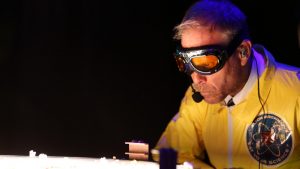 Alton Brown: Eat Your Science is actually a touring show that merely stopped on Broadway for a week amidst its other engagements.
From here, the show will go to California, with stops in Bakersfield, Santa Barbara, San Luis Obispo, Los Angeles, San Francisco, Fresno, Modesto, and Davis, and then onwards to Oregon and Washington, followed by Idaho, Utah, Colorado, Iowa, Illinois, Ohio, Michigan, Wisconsin, Missouri, many stops in Florida, and then list goes on.
Interactive Audience Experience
The tour is currently scheduled up until a performance in Green Bay, Wisconsin on May 7, 2017. This tour is also a follow-up to another previous tour of Brown's, Edible Inevitable, which was a great success but did not stop on Broadway. The entertainment specialty of Eat Your Science builds on those themes, combining science, music, puppets, and food, along with comedy and audience involvement. In the audience bit, a member from the crowd is invited onstage to serve as Brown's assistant.
The New York Times Enjoyed The Show, But Didn't Rave
Upon reviewing Alton Brown: Eat Your Science, Alexis Soloski from The New York Times warned her readers that if Alton Brown offers you a cocktail, even if you are desperately in need of a drink, you should not accept. That has something to do with the malicious grouping of ingredients in his hilariously repulsive drinks as demonstrated in the show.
She found the show to be quite funny, but also acknowledged it was very indulgent. She critiqued the show for not having a governing theme or structure, as a giant screen behind Brown magnifies his every action for the audience to see. Overall, however, she was won over by the combination of his smarts, dexterity, mischievousness, and borderline meanness that never quite crossed the line from fun-loving and good-natured.
Full Circle For Brown
The entire second act of the show, Brown reveals, is about popcorn, which – like returning to Broadway at age 54 after a long-ago theatre degree – comes full circle for Brown, as he held a job in college to make popcorn for a 13-screen movie theatre. Never afraid to be graphic, he detailed how his fingernails were stained orange for a year.
Thus began his love affair with the sometimes disgusting, sometimes intriguing, and often hilarious food which makes up the heart of this unusual Broadway show.