"Allegiance" Begins Previews at the Longacre Theatre
Allegiance Began Previews At The Longacre Theatre Starring George Takei In His Broadway Debut Alongside Lea Salonga In A Historical Story About Japanese Internment Camps During World War II
---
George Takei Makes His Broadway Debut In Historical Musical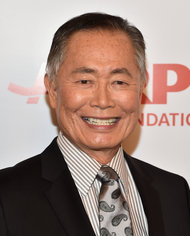 This past week, Allegiance began previews at the Longacre Theatre on Broadway. This new musical had its premiere production at the Old Globe Theatre in San Diego, California in the summer 2011, with the same principal cast as the Broadway production: George Takei, Lea Salonga, Telly Leung, and Michael K. Lee. George Takei is a Japanese-American actor and activist, best known for his role as Hikaru Sulu in the television show Star Trek, which he portrayed for several years, as well as six Star Trek feature films. Though is an established television and film star, this is the first time he has appeared on the Broadway stage. The road he took to get to this point is very unique.
Two of the show's writers, Jay Kuo and Lorenzo Thione, happened to be seated next to George Takei and his husband at an Off-Broadway show in the fall of 2008. The very next day, the couple happened to be seated next to the same two individuals at a Broadway show, In the Heights. When Takei began to appear emotional after a song about a father lamenting over being unable to help his family, the two men asked Takei why he was so affected by the song. Takei told them how as a child, he had been confined to Japanese internment camps during World War II. The two men thought this would be a great idea for a musical, and thus they began to develop it together with Takei in the lead role.
Producers Turned Writers In An Exciting New Show on Broadway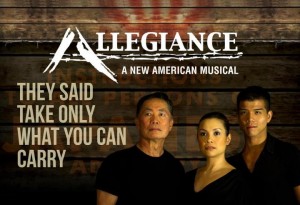 Allegiance has a book by Jay Kuo, Lorenzo Thione, and Marc Acito, with music and lyrics also by Jay Kuo. Though these three men have never before written a show to play on Broadway, Kuo and Thione have been business partners for a long time, as Broadway producers. Both men were producers on the shows Elling and Catch Me If You Can, as well as associate producers on Slava's Snowshow and American Idiot. Clearly, their interest in theatre has extended beyond the business side for some time, but they have only gotten the opportunity to showcase their creative talents.
The show's director, Stafford Arima, is also making his Broadway directorial debut, also he associate directed three shows previously: A Class Act, Seussical, and Ragtime. Nevertheless, this green creative team has manage to woo some top class talent. In addition to Takei, the show stars the incredible Lea Salonga, who is well known for starring as Kim in Miss Saigon, Mei-Li in Flower Drum Song, and both Eponine and Fantine in Les Miserables, at two different times in her life.
A Closer Look at a Lead Actor in the Broadway Production
The show's other lead actor, Telly Leung, has previously appeared on Broadway in Godspell, and in the ensemble in Flower Drum Song, Pacific Overtures, and Rent. Michael K. Lee has previously been in Miss Saigon, Jesus Christ Superstar, and Pacific Overtures. The list of repeat credits amongst this group of very talented performers demonstrates the dearth of good roles available to Asian American actors, especially in musicals. Therefore, this show is an excellent addition to the Broadway landscape, adding not only diversity but also a breathtaking and important story.
An Under Represented Time in American History
Allegiance tells the story of World War II, but from the perspective of the Japanese-Americans who were forced to live within internment camps simply because they shared a heritage with those who bombed Pearl Harbor. Even though the story takes place in a very specific time in history, the design of the show focuses on the romantic sub-plots and the universal themes of unfair discrimination and injustice. The show has been developed after long discussions with George Takei about his family history, and is thus very personal in conception and in the mind of the performer.