Alan Cumming and Kristin Chenoweth to Host Tony Awards
Two Tony-Winning Broadway Stars, Alan Cumming And Kristin Chenoweth, Will Host The 69th Annual Tony Awards At Radio City Music Hall On June 7, 2015.
---
Two Broadway Tony Winners Emcee On June 7th
On June 7, 2015, the 69th Annual Tony Awards will be broadcast live from Radio City Music Hall. The hosts have been announced: Alan Cumming and Kristin Chenoweth. These two beloved stars are both Tony winners themselves, and they also both starred in musicals that played this season.
Alan Cumming revived his magnificent role as the Emcee of Cabaret in this past year's revival, a role that he played opposite first Michelle Williams, then Emma Stone, and finally Sienna Miller.
A Talented Duo
As that production was an exact revival of an earlier revival production, with the same directors Sam Mendes and Rob Marshall, as well as the same star Alan Cumming playing the Emcee, it was not eligible for the Best Revival award category. As such, Cabaret did not receive any nominations this year. However, Alan Cumming did receive the Tony Award for Best Performance by a Leading Actor in a Musical for playing that role in the 1998 production of Cabaret.
As an award-winning emcee, therefore, he is the perfect emcee for this awards event. Furthermore, Kristin Chenoweth starred in On the Twentieth Century, a revival of a musical comedy by Betty Comden, Adolph Green, and Cy Coleman. That production has received five Tony Award nominations, including one for Kristin for Best Performance by an Actress in a Leading Role in a Musical. Its other nominations are those for Best Revival of a Musical, Best Featured Actor in a Musical for Andy Karl, Best Scenic Design, and Best Costume Design.
A Broadway History Of Alan Cumming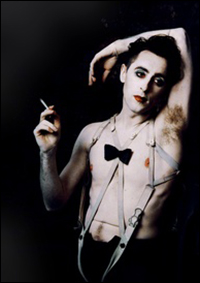 On top of the two productions of Cabaret, Alan Cumming has been on Broadway an additional three times. In 2001, he played Otto in a production of Noel Coward's Design for Living. In 2006, he played Macheath in a production of The Three Penny Opera.
And very notoriously, in 2013, he played Macbeth in a one-man production of that Shakespeare classic, first at Lincoln Center and then at the Ethel Barrymore Theatre.
Cumming's Prestigious Career
In addition to his Tony Award for the earlier revival of Cabaret, Cumming has received four Olivier Awards: the British equivalent of the Tonys.

He received an analogous award for his role in Cabaret in 1994. He also received an Olivier Award for the Comedy Performance of the Year for La Bete in 1993. Before that, he received the same comedy award for his performance in Accidental Death of an Anarchist, and he was commended as Best Newcomer in a Play by the Oliviers in 1988 for Conquest of the South Pole.
A Broadway History Of Kristin Chenoweth
As for Kristin, she has been nominated for Tony Awards twice before, winning one. She won the Tony Award for Best Featured Actress in a Musical in 1999 for You're a Good Man, Charlie Brown.
In 2004, she was nominated for her role as Glinda in Wicked for the award for Best Actress in a Musical, although she did not win (instead, Idina Menzel won the same award for the same production for her role as Elphaba).
Two-Time Tony Award Winner

This is now her third Tony Award nomination. Furthermore, she starred as Fran Kubelik in Promises, Promises in 2010, and she played Eve among other roles in the 2006-2007 production of The Apple Tree.
Before Wicked, she also played Louise Goldman in the 1999 production of Epic Proportions as well as a series of roles in the 1997 production of Steel Pier, as well as her star turn in You're a Good Man, Charlie Brown.