"Aladdin" and "The Lion King" Try 9 Shows in Summer
Aladdin And The Lion King Both Recently Had A 9-Performance Week, And Overall Broadway Stayed Fairly Consistent In Box Office This Past Week.
---
Long-Running Musicals Experiment With Denser Performance Weeks
In the week ending July 23, 2017, the biggest increase in ticket sales from the week before was seen by Aladdin, which went up by $207,368 to reach a weekly gross of $1,839,957. The reason for this steep jump is that Aladdin played 9 performances this past week, up one performance from the usual 8 performances in a week.
While this extra performance did give the weekly gross a boost, it was actually a slight decrease for the show in terms of gross potential; this past week's gross represented 89.91% of gross potential, whereas the previous week's lower gross of $1,632,589 represented 91.29% of gross potential.
A Push For 9-Performance Week
This is by no means the first time that Aladdin has played a 9-performance week, but it is only the ninth time. Given that the show has played over 1,400 performances since it began on February 26, 2014, this is very few. This is the first time ever that the show has played a 9-performance week in the month of July, or June or May for that matter.
Twice before a 9-performance week has taken place in August, in 2016 and 2015, but more commonly the denser weeks come around during the New Years holiday. At the same time, this past week, the biggest decrease was also due to a 9-performance week, in this case one that took place in the week before.
"The Lion King" Remains Consistent
The Lion King saw a decrease this past week of $200,699 to reach the weekly gross of $2,310,929. Nevertheless, the percentage reached of gross potential was marginally higher, at 90.50% in comparison to the previous 9-performance week's 89.01%. Since The Lion King began performances on October 15, 1997, it has played 9-performance weeks on 27 occasions.
This is out of a total of more than 8,200 performances. Thus, even for The Lion King, 9-performance weeks are relatively rare. However, unlike Aladdin, The Lion King is fairly consistent in that it has played a denser week in the middle of July for the past 6 years. It also tends to play 9-performance weeks around New Years and other particular points throughout the year.
Overall Broadway Stayed Fairly Constant Last Week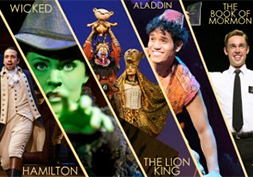 With the biggest fluctuations being Aladdin and The Lion King swapping 9-performance weeks, the rest of the Broadway industry last week also pretty much balanced itself out. The collective gross of the 29 showing running last week was $31,395,966, which is an increase of just $372,226 from the week before.
There is one fewer show running than there was last week, as Olso closed. Still, these numbers are only a measure of the 29 shows that were still running last week. Whereas the average audience capacity last week was 88.81%, this past week the audiences were filled up to an average of 90.01% of capacity.
Box Office Increases For Many
The average percentage reached of a show's gross potential was 78.22%. Other increases were seen by School of Rock, which went up by $99,543 to reach a weekly gross of $1,149,756, Indecent, which went up by $92,887 to reach a weekly gross of $482,575, The Phantom of the Opera, which went up by $89,888 to reach a weekly gross of $1,143,128, and A Doll's House, Part 2, which went up by $89,153 to reach a weekly gross of $646,910.
Discount Broadway Tickets
---
---