After Three Years of Debris, a New Subway Station Opens
New York City Transit Opens A New Subway Station At Broadway And 96th Street, Although, Construction Is Expected To Continue Through The Fall
---
Commuter Subway Station Opens Near Broadway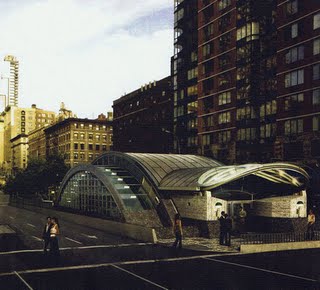 It's a big week for subway news, folks: After three years of noise (jackhammers at dawn, anyone?) piles of concrete, traffic snarls, and pedestrian snafus, a new subway station opened on New York's Upper West Side at Broadway and 96th Street this morning.
In addition to the inside renovations, a curved steel and glass dome was added to the outside of the station. The station services the 1, 2, and 3 lines and is used daily by about 67,000 people. In the old station, riders had to go down two floors--and then up one, in order to get to the subway platform. In the new station, commuters can go directly to either the uptown or downtown platforms.
The Station Is Open But Construction Continues
The renovation cost about $98 million. An elevator and a small park (Really? It will have to be very, very small…) should be finished by the fall. Other work is still to be completed as well, including a new public address system, better ventilation, and new signage.
New York City Transit says 134,000 trips either begin or end at the 96th Street Station. Caveat: While the station may be open, it's certainly not finished. Viewed from outside, the interior still resembles a big mass of wood and cement debris interspersed with harried-looking commuters. The station, by the way, was part of the original IRT subway system and originally opened in 1904. Still, it has to be an improvement over the old station—or the mess and disruptions caused by the renovation over the last few years.