Actor Jeff Daniels To Play 54 Below
Popular Film And Television Actor Jeff Daniels Will Return To The Stage At 54 Below With A Limited-Engagement Concert Series With Original Songs
---
Jeff Daniels Takes The Stage With Six Show Engagement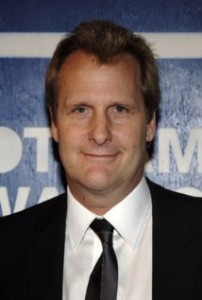 Though he is better known as a television and film actor, Jeff Daniels (currently starring in HBO's series The Newsroom) will soon be taking the stage at 54 Below, the favored venue for New York City theater performers who want to perform solo shows. Daniels will perform six shows there, from January 2-4, 2014.
During his concert engagement, Daniels will present several of his own original songs. Highlighting the actor's humorous side, the tunes feature such titles as "You Can Drink An Ugly Girl Pretty" and "If William Shatner Can, I Can Too".
Daniels' Successful Career Beyond Broadway
Jeff Daniels' breakout roles came in the early 1980s in movies such as Terms of Endearment and The Purple Rose of Cairo, going on to gain greater recognition in Hearburn and Something Wild. Other film credits include Gettysburg, Speed, Pleasantville, The Squid and the Whale, State of Play, and Looper.
He is also scheduled to star in a sequel to the silly comedy favorite Dumb & Dumber in 2014. More recently, Jeff Daniels has gained acclaim for his starring role as veteran newsman Will McAvoy in Aaron Sorkin's HBO drama The Newsroom. He recently took home an Emmy Award for Outstanding Lead Actor in a Drama Series for his work in The Newsroom.
Purple Rose Theatre Company
While Daniels has distinguished himself in movies and TV over the years, he has always kept one foot in the theater. He studied drama in college and began his career on the New York stage in the late '70s. Daniels founded the Purple Rose Theatre Company in 1991 in his hometown of Chelsea, Michigan, and he has authored numerous plays for the company.
Jeff Daniels' stage work has included five Broadway productions, including Fifth of July, The Golden Age, and Redwood Curtain. His most recent appearance on Broadway was in the popular 2009 play God of Carnage. Tickets for the Jeff Daniels concert at 54 Below (254 West 54th Street) are priced in the $40-$50 range, plus there is a $25 minimum for food and drinks. For further ticketing and show information, visit 54Below.com.
Discount Broadway Tickets
---
---