Act One Opens on Broadway at the Vivian Beaumont Theatre
Act One, Starring Tony Shalhoub And Santino Fontana, Is A Broadway Play Written And Directed By James Lapine, Based On The Memoir Of The Same Name.
---
Revolving Theatre Offers Audiences A Unique Experience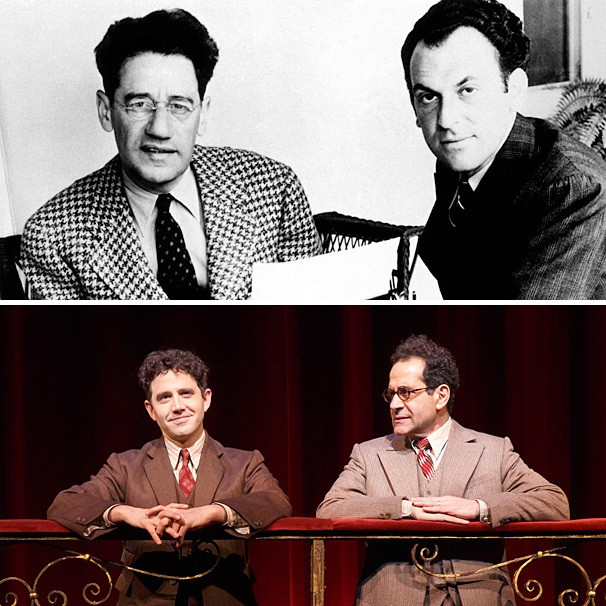 The Vivian Beaumont Theatre is the 1,105 seat Broadway house run by Lincoln Center, which also operates two smaller houses in their beautiful West 65th Street complex.
This revolving stage is presently occupied by the set of Act One, a play written and directed by James Lapine, based off the memoir of the same name by Moss Hart.
Past, Present, And Future Combine
As the set by Beowulf Boritt revolves, the audience is able to glimpse the past, present, and future scenes of Hart's life at once, which sets the tone for the multi-generational time-hopping play.
Though many critics gave positive reviews to this story catering to the theatrical die-hards, other reviewers found it lacking drama, despite being a recounting of the ultimate drama success story.
Santino Fontana And Tony Shalhoub Receive Resounding Reviews
Without fail, critics praised the performances of the two main actors. Santino Fontana, who has increasingly come into the Broadway consciousness of late due to his star turns as the Prince in Rodgers + Hammerstein's Cinderella as well as the lead in the Off-Broadway play Sons of the Prophet, plays Moss Hart as a young man.
Tony Shalhoub, well-known to the public through the television show Monk,and a Lincoln Center favorite recently seen in Golden Boy, has multiple parts to play: Moss Hart as an older man, his father Barnett, and also his great collaborator, George S. Kaufman.
"Act One" Storyline
Throughout most of the first act, Shalhoub juggles the first two of these roles, generally serving as narrator when playing Hart as an older man, while Fontana simultaneously serves as a second narrator.
Finally at the end of Act I, Shalhoub re-enters, this time as Kaufman, who joins forces with Hart to create some of the great musical collaborations of Broadway history, such as You Can't Take it With You, The Man Who Came to Dinner, and the play Merrily We Roll Along, which later served as the source for the musical of the same name whose score was written by Stephen Sondheim.
Successful Broadway Collaborations
James Lapine knows a thing or two about collaboration himself, as he is best known for his musical theatre collaborations with the Stephen Sondheim. Their work together includes Sunday in the Park with George, Into the Woods, Assassins, and Passion.
It therefore must have been very close to Lapine's heart to tell this rags-to-riches story of a young theatre artist looking for his big break, only to find a collaborator in a more experienced individual. For the most part, Lapine manages to adapt Hart's memoir with a significant degree of wit and a great deal of humor. However, it is extremely difficult to adapt an entire book into a play of manageable length, and this play does trail on the long side.
Mixed Reviews From Critics
Whereas the first act was critiqued as being a bit cliché, for which any story of a struggling artist could have filled in, the second act suffers from the lack of dramatic tension and over-exposition. The play also features excellent supporting performances by Matthew Saldivar (Peter and the Starcatcher), Will Brill (Tribes), and Will LeBow as both Jed Harris and Augustus Pitou.
Despite fabulous work from the cast, however, the production is overblown and the storytelling at times flavorless. Though it makes perfect sense that this biography of a modern theatre icon would find its home on the Vivian Beaumont stage, the theatrical adaptation of this theatre master's life story does not quite match up to his legacy.
Discount Broadway Tickets
---
---