Acclaimed Revival of "Three Tall Women" Closes
Edward Albee's Three Tall Women plays its final performance directed by Joe Mantello, starring Glenda Jackson, Laurie Metcalf, and Alison Pill.
---
Joe Mantello Directed Edward Albee Play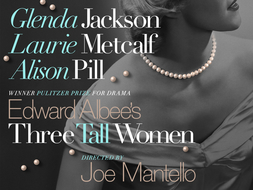 At the end of this week, on Sunday, June 25, 2018, Three Tall Women will play its final performance at the John Golden Theatre, where it has been running since its first preview on March 1, 2018, ahead of an opening night on March 29, 2018. This play by Edward Albee first premiered in 1991 in Vienna, Austria, and then came to New York and London in 1994. That year, the work won the Pulitzer Prize for Drama. Nevertheless, even then, the show only made it to the Off-Broadway stage in New York, playing at the Vineyard Theatre in an acclaimed run that also earned a Drama Desk Award for the actress Myra Carter, the Drama Critics Circle Award for Best Play, the Lucille Lortel Awards for Outstanding Play and Best Actress for Myra Carter, the Outer Critics Circle Awards for Best Off-Broadway Play and Best Actress for Myra Carter, and the Obie Award for Distinguished Performance by an Actor, also for Myra Carter. In that production, Myra Carter played "A", the oldest of the three women who star in Three Tall Women. In this revival directed by Joe Mantello (The Humans, An Act of God, Blackbird, Airline Highway, The Last Ship, Casa Valentina, I'll Eat You Last: A Chat With Sue Mengers, The Other Place, The Glass Menagerie), the role of "A" is played by Glenda Jackson, who, at age 82, won the Tony Award for Best Performance by an Actress in a Leading Role in a Play. Meanwhile, Laurie Metcalf, who plays "B", won the Tony Award for Best Performance by an Actress in a Featured Role in a Play. While the show was nominated for six Tony Awards including Best Revival of a Play, these two acting awards were the only wins for the show.
Rave Reviews and an Added Final Performance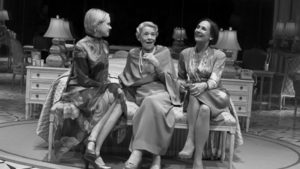 The show earned a slew of laudatory reviews upon its opening night. In addition to declaring the revival a Critics' Pick, the New York Times' Jesse Green raved about Glenda Jackson's performance in "a role that's big enough to need her," and that this Broadway debut of this play was "worth the wait." David Rooney from The Hollywood Reporter gave Glenda Jackson's performance the compliment that "stage acting doesn't get any better," calling this a "brittle but moving play about death and self-knowledge" in a production where the writing "feels revitalized." Greg Evans from Deadline praised Joe Mantello's "superb staging," and states that "Albee's Pulitzer Prize-winning late-career masterpiece has been given the loving, impeccable production that Albee apparently thought was beyond Broadway's reach." Marilyn Stasio from Variety says that watching Glenda on that stage was like "looking straight into the sun," because "it's the voice that really thrills." With such excellent reviews, the decision was made for the production to add one more performance on the final day, this Sunday. That will entail a 9-performance week for this play, starring three fabulous actresses, and it is an especially notable mark of endurance for Glenda Jackson.
Millionaire's Club in the Final Inning
In the last reported week of box office figures, the week ending June 17, 2018, Three Tall Women finally crossed over the million dollar mark in its weekly box office gross. Following the Tony Awards recognition, the show saw an increase of $83,661 that week to reach a weekly gross of $1,077,919, which represents 115.60% of its gross potential. These are by far the highest numbers – both in terms of weekly gross and gross potential – that the revival has achieved in its run to date. When this final week's numbers are reported next week, it will become clear if the last week will go even further, which will be an accomplishment indeed. With 9 performances, it is sure to continue demonstrating an increase at the box office, but whether the average paid admission will exceed this past week's record for the run of $171.15 remains to be seen. In any case, this production will go down in history as an undeniable success, lauded with great reviews, awards, and an ascending box office.
Discount Broadway Tickets
---
---