A Guide to New York City's Best Mobile Eats
---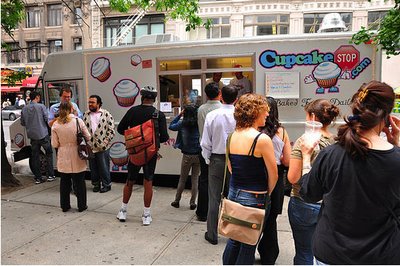 There is more to New York City food carts than hot dogs and soft pretzels. In the latest issue of Time Out New York, the magazine lists the best food trucks and carts New York City has to offer. Here is a brief roundup:
The Big Gay Ice Cream Truck
Doug Quint serves soft serve ice cream in cones with an interesting variety of toppings such as bacon, crushed pretzels, and Nilla Wafers. Various locations around NYC.
Calexico
Brothers Dave, Jesse and Brian Vendley sell gourmet Cal-Mex cuisine and have garnered a following for their flavorful meat and generous portions. Calexico carts are found at the corner of Prince and Wooster Streets as well as Broadway and Broome Street.
Cupcake Stop
Lev Ekster sells mini and regular-size cupcakes with flavors like Oreo crumb and chocolate peanut butter swirl. Catch Cupcake Stop daily at Fifth Avenue between 13th and 14th Streets and nightly at 23rd Street between Seventh and Eighth Avenues.
NY Dosa
Thiru Kumar offers vegan dosas, a delicate lentil-and-rice-flour crepe filled with vegetables and potatoes, with coconut chutney and spicy vegetable soup, undoubtedly one of New York's healthiest carts. Look for Kumar on West 4th Street at Sullivan.
Kwik Meal
Mohammed Rahman opened his first cart in 2000 and three more since, becoming a popular Midtown fixture at West 45th Street at Sixth Avenue with his succulent lamb over rice and vegetable-filled pitas.
Kim's Aunt Kitchen
This cart draws crowds for its fried whiting and flounder sandwiches served on Wonder, whole wheat or pita breads. Also try the beef bulgogi, a step above the usual street meat, at West 46th Street between Fifth and Sixth Avenues.
Street Sweets
Inspired by a visit to Italy, Samira Mahboubian opened a food truck serving croissants with assorted fillings like Nutella and marshmallow crème. Check http://twitter.com/streetsweets for Midtown location updates.