"A Doll's House, Part 2" Opens to Rave Reviews
A Doll's House, Part 2 Has Opened At The John Golden Theatre To Excellent Reviews. The Box Office Is On The Rise, And The Much Anticipated Broadway Show Received 8 Tony Nominations.
---
Sam Gold Directs Lucas Hnath's Play with Starry Cast on Broadway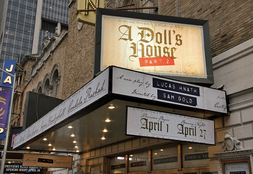 A Doll's House, Part 2 may not have been faring very well at the box office during previews, but the reviews are in – and the critics are in love with this new play! Conceived as a sequel to Henrik Ibsen's A Doll's House, the 1879 play that is one of the most performed plays by both professional and amateur theater companies around the world, A Doll's House, Part 2 picks up 15 years after the conclusion of its predecessor.
While A Doll's House famously concludes with the protagonist, Nora, walking out on her family and slamming the door behind her, A Doll's House, Part 2 picks up with a knock on that same door, 15 years later, when Nora has returned. Written by Lucas Hnath (The Christians, Hillary and Clinton) and directed by Sam Gold (Fun Home, The Glass Menagerie, The Real Thing), A Doll's House, Part 2 has an accomplished cast that includes Laurie Metcalf (Misery, The Other Place), Chris Cooper (Of the Fields, Lately), Jayne Houdyshell (The Humans, Follies), and Condola Rashad (Romeo and Juliet, Stick Fly).
Show Is Tony Award Nominee
In addition to excellent reviews, A Doll's House, Part 2 has been blessed with eight Tony Award nominations, including those for Best Play, Best Performance by an Actor in a Leading Role in a Play for Chris Cooper, Best Performance by an Actress in a Leading Role in a Play for Laurie Metcalf, two nominations for Best Performance by an Actress in a Featured Role in a Play for Jayne Houdyshell and Condola Rashad, Best Costume Design of a Play for David Zinn, Best Lighting Design of a Play for Jennifer Tipton, and Best Direction of a Play for Sam Gold.
Rave Reviews from Broadway Critics All Around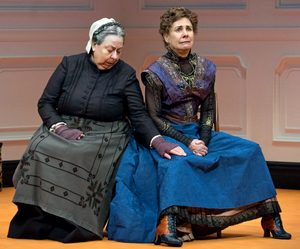 Upon viewing the show prior to opening night, Ben Brantley from The New York Times called the play smart, funny, utterly engrossing. Adam Feldman from Time Out New York called it lucid, absorbing, and taut, also complimenting each of the performances, and especially lauding Laurie Metcalf's performance of grit and frustration. Maya Stanton of Entertainment Weekly was pleasantly surprised by the humor in A Doll's House, Part 2, enjoying the way Hnath deals with his characters in a head-on, gleeful fashion.
Linda Winer from Newsday was also a big fan of the show, remarking that this play is significantly more successful than Harold Prince's 1982 musical attempt at a sequel, A Doll's Life, which lasted just five performances. Only Matt Windman of AM New York was more on the fence, suggesting that only Ibsen fans should bother to attend this production, but nevertheless calling it a lightweight, feisty comedy.
Box Office Significantly Improved Post-Opening
In the first five weeks of previews, A Doll's House, Part 2 had troubling box office receipts, failing to bring in more than 20% of its gross potential in any given week. However, once the reviews and Tony nominations were announced, the box office took a significant step up. In the last reported week of box office figures, the week ending May 28, 2017, A Doll's House, Part 2 had its best box office week yet, bringing in a weekly gross of $419,689, which represents 58.18% of gross potential.
While this is still far from a sell-out hit, it does represent that audiences are taking note that this is a play worth seeing. It seems likely that the show will win at least some of its eight Tony Award nominations, and if Best Play is among those wins, then box office will likely continue to rise until the run completes, which is currently scheduled for July 23, 2017. While the show may not make profits at this rate, it will still go down in history as a critically successful endeavor on Broadway.