"A Delicate Balance" Plays Its Final Performance
A Delicate Balance by Edward Albee, directed by Pam MacKinnon, concludes its Broadway run at the John Golden Theatre. It stars Glenn Close, John Lithgow, Bob Balaban, and Martha Plimpton.
---
A Wildly Successful Beginning, Tapering Out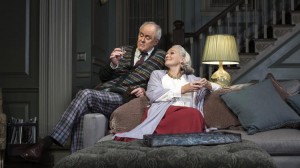 When Glenn Close and John Lithgow began performances in this season's revival of Edward Albee's
A Delicate Balance
on October 20, 2014, ticketbuyers sprinted to the box office. When the show opened on November 20, 2014, critics were generally laudatory of the marvelous rendition directed by Pam MacKinnon, arguably the greatest contemporary interpreter of the works of Edward Albee. As such, in the first week of previews, the show brought in $884,596, which represented 102.25% of its gross potential. However, it never made it past the 100% mark in any other week. The next three weeks were also excellent, with the box office reaching in the high 90s of percentage of gross potential, and 100% of audience capacity. Soon, however, sales began to taper off slightly. Between November 18, 2014 and December 14, 2014, the show was still between 88% and 99% of audience capacity; however, percentage of gross potential was slightly lower, between 83% and 94% of the full potential. This shows that the production began to offer a limited number of discounted tickets. Most recently, as the run nears its end, the production has brought in sales in the low 50s of percentage of gross potential. The show plays its last performance on Sunday, February 22, 2015.
An Excellent Production, but a Competitive Season
It is not clear exactly why the show began with such a strong start, but then lost steam as it continued to play throughout the run. Most likely, the show reached its saturation point with individuals who were particularly excited about Albee, or Glenn Close, or John Lithgow, or the play in particular. After many other shows began performances, some exciting musicals or other plays with big stars in the lead, there just weren't enough audience members to sustain the packed houses as the winter season kicked in. The two plays that did manage to survive the cold season were
It's Only a Play
starring Nathan Lane and Matthew Broderick, and
The Elephant Man
starring Bradley Cooper. However, most other shows remained in the midrange of ticket sales, competing with the regular favorites and mega musicals. In any case, this production can consider itself a success, whether or not it enters profits for its producers (the recoupment information has not been made public). It is an achievement merely to mount such a great dramatic work on Broadway and attract enough audience interest to maintain a fairly healthy commercial run.