"A Delicate Balance" Opens on Broadway
A Delicate Balance Opened On Broadway On November 20, 2014 Starring Glenn Close And John Lithgow. The Production Received Great Reviews.
---
An Edward Albee Masterwork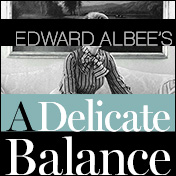 On November 20, 2014, Edward Albee's A Delicate Balance opened at the John Golden Theatre. Directed by Pam MacKinnon (Who's Afraid of Virginia Woolf?, Clybourne Park), who is known as the greatest contemporary interpreter of Albee's works, the show has been running since its first preview on October 20, 2014.
While Albee himself has solidified his status as a playwrights whose works are worth seeing, the success of this production is also due in no small part to the high stature of the cast.
"A Delicate Balance" With Star-Studded Cast
The lead roles of Agnes and Tobias are played by Glenn Close (Sunset Boulevard, The Real Thing) and John Lithgow (The Columnist, All My Sons) respectively, and their daughter Julia is played by Martha Plimpton (Pal Joey, Top Girls). Agnes' alcoholic yet visionary sister Claire is played by Lindsay Duncan (Private Lives, A Midsummer Night's Dream), and their surreally dependent friends Harry and Edna are played by Bob Balaban (Speed-the-Plow, The Inspector General) and Clare Higgins (Vincent in Brixton) respectively.
In addition to the theatre credits of these actors, their pedigree extends deeply into the world of the screen, with some extremely well-known titles affixed to their names. In this richly profound and relatable play, these actors create an extremely appealing and accessible performance for theatregoers.
An Overall Positive Critical Response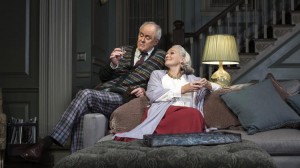 Though not every reviewer was on their hands and knees bowing down to this production, several critics did present huge praise and others also saw great merit in the show.
David Cote from Time Out New York calls this show a "parlor puzzler," harking both to its accessibility taking place in the living room as well as its complex intrigue, declared the show full to bursting. Dave Quinn from NBC New York loved the show as well, especially praising Glenn Close's triumphant return to Broadway after a 20 year hiatus.
Thought-Provoking But Slow
Charles McNulty of the Los Angeles Times also found the show to be a roaring success, praising the scenic design of Santo Loquasto as well as the richness of the comedic existentialist work. Ben Brantley of the New York Times was less fully sold on the production, agreeing more with critics following the 1966 premiere who were not comfortable declaring this one of Albee's best works.
Furthermore, Terry Teachout of the Wall Street Journal felt that the show is at best thought-provoking but is ultimately a bit slow going, and therefore is not one of Albee's most praiseworthy pieces. Nevertheless, the show did win the Pulitzer Prize following its 1966 production, showing that newspaper critics are not always on exactly the same page as other notable minds in the field.
A Financial Success
In the seven weeks that A Delicate Balance has been running in full eight performance weeks, is has done exceedingly well at the box office. In its first week of previews, the show was more than sold out, bringing in 102.25% of its gross potential with a gross of $884,596.
Though it hasn't done quite as well since, it has never dipped below 83.43% of the gross potential, and generally has been squarely in the 90% range. In the last recorded week – the week ending December 7, 2014 – the show brought in $873,152, representing 94.59% of its gross potential, with a top ticket price of $323.00 and an average paid admission of $143.33.
Minimal Discounting As Theatregoers Flock To The Theatre
This shows little to no discounting, as theatergoers are flocking to this treat of a play starring some of their favorite actors. In particular, Glenn Close must be a major draw, as she hasn't performed live on Broadway for two decades.
John Lithgow, on the other hand, was seen as recently as 2012 when he starred in The Columnist, which didn't do quite as well financially.