"A Delicate Balance" Begins Previews on Broadway
Pulitzer Price Winning Play By Edward Albee A Delicate Balance, Directed By Pam Mackinnon, Began Previews On October 20, 2014 At The John Golden Theatre.
---
Edward Albee's Pulitzer Prize Winning Drama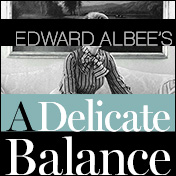 On October 20, 2014, A Delicate Balance began previews at Broadway's John Golden Theatre. Written by Edward Albee (Who's Afraid of Virginia Woolf?, Seascape, The Goat or Who is Sylvia?), A Delicate Balance first premiered on Broadway in 1966, winning the Pulitzer Prize for Drama the following year.
This is the play's third revival; the second took place in 1996. This production is directed by Pam MacKinnon (Who's Afraid of Virginia Woolf?, Clybourne Park), who has built her reputation as the preeminent interpreter of the works of Edward Albee.
Pam MacKinnon's Successful Carer
This is her second time producing one of his works on Broadway, but she also directed many Off-Broadway and regional productions of his work, including Peter and Jerry at Second Stage Theatre in 2007, The Goat, or Who is Sylvia? at Houston's Alley Theatre in 2003, a previous production of A Delicate Balance in 2009 at Arena Stage in Washington, D.C., and Occupant at the Signature Theatre in 2008.
Edward Albee's work is frequently performed at the Off-Broadway Signature Theatre, as he is one of the five playwrights honored by being selected in their Residency Five program, through which he will have five productions of his plays over five years.
"A Delicate Balance" Cast Full Of Stars
The cast of this Broadway revival of A Delicate Balance includes Glenn Close as Agnes, John Lithgow as her husband Harry, Bob Balaban and Clare Higgins as their friends Harry and Edna, Lindsay Duncan as Agnes' alcoholic sister Claire, and Martha Plimpton as Agnes and Tobias' daughter Julia.
Glenn Close is best known for her roles in such films as The Big Chill, 101 Dalmatians, Air Force One, and Dangerous Liaisons, but she has appeared on Broadway several times before in shows such as The Play What I Wrote (2003), Sunset Boulevard (1997), and Death and the Maiden (1992).
John Lithgow's Broadway Credits
Similarly, John Lithgow is known for his screen performances including the television show 3rd Rock from the Sun and movies such as Shrek and Rise of Planet of the Apes, but his Broadway credits are also numerous including The Columnist (2012), All My Sons (2008), and Dirty Rotten Scoundrels (2005).
In fact, all of these actors have been on Broadway before, and some of them many times. This is an example of a show that may be selling its tickets based on the fame of its cast, but the cast is not made up of movie stars trying their hand at Broadway; rather they are tried and true stage performers as much as they are movie stars.
A Brilliant And Surreal Play
The play opens in the home of Agnes and Tobias, a middle age couple who live with Agnes' alcoholic sister Claire. Their adult daughter Julia has come home after a failed marriage – not her first. Meanwhile, their friends Harry and Edna come over in a state of terror; without explanation, they can no longer bear to live at their own home, and feel inclined to regress back to the womb.
They are invited to stay as long as they like as houseguests, which Julia truly resents. Furthermore, Claire may be alcoholic, but at times she seems to have her head on straighter than do any of the others; her insights are often valuable contributions to the story's progress.
Chilling And Powerful Drama
In general, Agnes and Tobias fret about the possibility of losing their minds.They drink and discuss their lives, and there is a continual sense of doom approaching – or alternatively, nothing happening at all, which is almost as bad.
The play is written with a strong sense of realism, and yet there are surreal moments that creep up completely unexpected. As such, it succeeds in being a chilling and powerful drama that accessibly opens up introspection about the meaning of life.