A Cappella Musical "In Transit" Begins Previews
In Transit Has Begun Previews On Broadway, With A Book And Score By Kristen Anderson-Lopez, James-Allen Ford, Russ Kaplan, And Sara Wordsworth.
---
Ensemble Beatboxes And Sings About New York City Life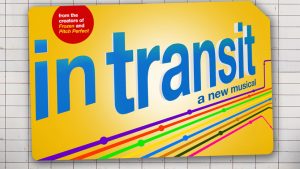 On November 10, 2016, In Transit begins previews at the Circle in the Square Theatre, ahead of an opening night scheduled for December 11, 2016. In Transit is Broadway's first a cappella musical.
The a cappella score is written by four individuals, including Kristen Anderson-Lopez, who co-wrote the movie musical Frozen along with her husband, Robert Lopez, who was also a creator of Avenue Q and The Book of Mormon.
A Talented Team
Lopez and Anderson-Lopez are also behind the Frozen stage musical adaptation currently in development. The other three composers are James-Allen Ford, Russ Kaplan and Sara Wordsworth. In addition, the musical arrangements are done by Deke Sharon, who is the musical mind behind the a cappella films Pitch Perfect and Pitch Perfect 2, in addition to the television show "The Sing-Off."
In Transit is a modern style of musical that brings to life a vivid array of characters in the city that never sleeps… or stops moving. Inspired by the rhythms of the subway, In Transit follows the lives of eleven New Yorkers as they intertwine in their quest to catch the express train to success, love and happiness.
The A Cappella Phenomenon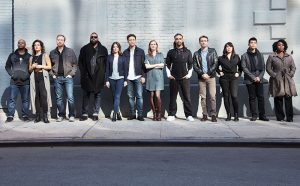 Without a doubt, a cappella is on the rise. In 2012, the film Pitch Perfect brought a cappella to the big screen, becoming the second highest grossing musical comedy of all time; it earned over $65 million at the domestic box office, and over $115 million worldwide.
When Pitch Perfect 2 came out in 2015, it surpassed the record of the original film within 5 days of its release, bringing in over $184 million domestically and over $287 million worldwide. It also overtook School of Rock to become the highest-grossing musical-comedy of all time.
Deke Sharon Is A Musical Guru

Meanwhile, NBC's hit television show "The Sing-Off," an a cappella singing competition, has regularly brought in ratings of over 8 million viewers per episode. Besides bringing a cappella to a massive audience, Pitch Perfect and "The Sing-Off" have one other thing in common: they were both the handiwork of Deke Sharon, the music guru and a cappella arranger for In Transit.
Other examples of the rise of a cappella include Pentatonix, the a cappella singing group that won two Grammy Awards in 2015 and 2016, and whose hit songs have topped the Billboard charts on countless occasions. Also, Deke Sharon is the creative mind behind Vocalosity, the best-selling live concert tour featuring a cappella music, presently scheduled for over 30 cities.
A Rockin' Cast Of Broadway And Music Talent
The cast of In Transit is an ensemble of twelve: eleven New Yorkers whose lives intertwine, and one beatboxer, called the Boxman. The Boxman is played by Steven "HeaveN" Cantor, who is also known as Heaven Beatbox, and who has moved from his hometown of Alpharetta, Georgia to become a visionary artist who regularly performs live at music festivals, clubs, and corporate events worldwide.
The other cast members include Justin Guarini, who was the runner-up to Kelly Clarkson in the first season of "American Idol," and who has since gone on to perform in such Broadways shows as Wicked (Fiyero), Romeo & Juliet (Paris), American Idiot (Will), and Women on the Verge of a Nervous Breakdown (Carlos).
Directed By Three-Time Tony Winner, Kathleen Marshall
Also, the cast includes Telly Leung, whose Broadway credits include Allegiance, Godspell, Rent, Pacific Overtures, and Flower Drum Song, and who also played Wes the Warbler on "Glee." Furthermore, Erin Mackey plays Ali in In Transit; her credits include Amazing Grace, Chaplin, Anything Goes, Sondheim on Sondheim, and Wicked.
Other cast members include Margo Seibert (Rocky), James Snyder (If/Then), Moya Angela (The Lion King), Nicholas Ward (On the Town), David Abeles (Once), Gerianne Perez, Chesney Snow, and Mariand Torres. The show is directed by three-time Tony Award winner Kathleen Marshall, whose Broadway directing credits include Nice Work If You Can Get It, Anything Goes, and Living on Love.
Discount Broadway Tickets
---
---