2012/2013 New Year's Schedule Changes on Broadway
With The Holiday Season Underway, Broadway Sees Changes To The Performance Schedule With Evening Performances On December 31st Being Canceled
---
The Holiday Season Impacts Broadway's Performance Schedule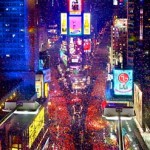 The Christmas holiday had a considerable impact on Broadway schedules last week, prompting many shows to cancel performances on Christmas and to add matinee performances later in the week. New Year's Eve and New Year's Day, too, are known to inspire a few schedule changes for Broadway shows, and they are just a couple days away.
Naturally no Broadway show wants to hold a performance on New Year's Eve, a night when Times Square is overflowing with revelers and many potential audience members are attending New Year's parties, so all evening performances on December 31 have been canceled.
Monday Matinee Performances
However, a handful of shows -- Jersey Boys, The Lion King, Mary Poppins, Newsies, and Peter and the Starcatcher -- are offering special Monday matinee performances that day.
On January 1, New Year's Day, most Broadway shows are having Tuesday evening performances as usual. Family-friendly Annie, however, is taking the unusual step of having matinee that day. To view the entire New Year's week schedule.