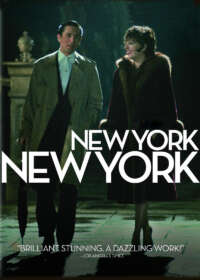 New York, New York
Tickets for Show: Expected To Open in the Future
Discount Broadway Tickets For New York, New York: Future Show
New York, New York

Summary
Show Status: Future

Genre: Musical

New York, New York is 115 Minutes long, including an intermission of 15 Minutes

8 Shows per week

Previews Begin: March 15, 2023

Show Opens: April 12, 2023

Show Closes: Open ended
Set in 1946 around V-J Day (or Victory over Japan Day) the show tracks a jazz saxophonist and a pop singer whose marriage falls apart after their successful careers take them on different paths.

New York, New York

on Broadway Background
The new show is loosely based on the 1977 Martin Scorsese film New York, New York which starred Liza Minnelli and Robert De Niro.
The Broadway show features the iconic song "New York, New York" which was written for Scorsese's musical drama film which was released in April 1977. The movie was a box-office failure and lost significant money for the studio.
Frank Sinatra Records the Song
Two years after the movie flopped, in 1979, Frank Sinatra recorded the movie's signature song for his own album and then it became a huge hit.
Nowadays, most people ironically associate the New York, New York theme song with Sinatra, not the original singer Liza Minnelli and certainly not the original movie that has long been forgotten.
The New Broadway Show
The new Broadway show New York, New York features many of the original songs from the movie by John Kander and Fred Ebb. The show also features some new songs by Kander and Broadway man-of-the-moment, Lin-Manuel Miranda.

What's
New York, New York

Like?
A jazz saxophonist and a pop singer fall madly in love and marry at the end of the Second World War. The saxophonist's outrageously volatile personality places a continual strain on their relationship and after they have a baby, their marriage crumbles.
Their careers develop on separate, but successful, trajectories until they can no longer ignore their former partner's achievements and passion for each other.
Music Supervisor

Sam Davis
Vocal Arranger

David Loud
Music Director

Alvin Hough, Jr.
Orchestrations

Daryl Waters