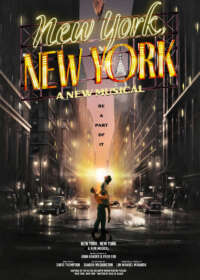 New York, New York
Broadway Show Tickets: Show Closed No Longer Available
New York, New York on Broadway: Show Is Now Closed
New York, New York

Summary
Show Status: Closed

Genre: Musical

New York, New York is 2 Hours and 30 Minutes long, including an intermission of 15 Minutes

8 Shows per week

Previews Began: March 24, 2023

Show Opened: April 26, 2023

Show Closed: July 30, 2023
Set in New York City following WW2, the show follows a young musician and a singer whose marriage falls apart after their successful careers take them on different upward paths, but will the spirit of New York City drive the lovers back together?

New York, New York

on Broadway Background
New York, New York is a glittering love letter to the greatest city in the world.
Featuring an exhilarating new score by the incomparable John Kander and Fred Ebb, an original story by David Thompson with Sharon Washington, additional lyrics by Lin-Manuel Miranda, and visionary direction and choreography by Susan Stroman, New York, New York whisks the audience through the very heart of the city that never sleeps.
1977 Martin Scorsese film New York, New York
The new 2023 Broadway show is loosely based on the 1977 Martin Scorsese film New York, New York which starred Liza Minnelli and Robert De Niro in the lead roles.
The new show features the iconic song "New York, New York" which was originally written for Liza Minnellli in the 1977 movie, but failed to wow audiences.
Scorsese's musical drama film was a box-office failure and lost significant money for the studio.
1979 Frank Sinatra Re-Records the Song "New York, New York"
In 1979, two years after the original New York, New York movie flopped, Frank Sinatra re-recorded the movie's signature song for his own album and then it finally became a hit.
Nowadays, most people ironically associate the New York, New York theme song with Sinatra, not the original singer Liza Minnelli and certainly not the original movie that has long been forgotten.
2023 New Broadway Show Version
The new Broadway show New York, New York features many of the original songs from the movie by John Kander and Fred Ebb.
The show also features some new songs by Kander and the Broadway man-of-the-moment, Lin-Manuel Miranda.
Show Closes After 33 previews and 110 regular performances
With a final Broadway performance date of July 30, 2023, New York, New York failed to get a footing on Broadway and closed early.
Despite its lavish set and catchy main song, the show only averaged $690,000 per week in ticket revenue with only 9,000 tickets sold. This equate to only 68% of the total tickets being sold, a formula that would ensure that the show failed to break even.

Weak Showing At 2023 TONY Awards
The show received nine Tony nominations, but only took home one trophy, which was for Beowolf Boritt's amazing scenic design.
Show Set For US Tour in 2024
The show announced that it will go on a US tour following its closing on Broadway, but with such a lavish and complex set, this will be a major feat to pull off.
What's
New York, New York

Like?
A musician and a singer meet and fall madly in love and marry following the end of the Second World War. The musician's outrageously volatile personality places a continual strain on their relationship and after they both achieve success, their marriage begins to crumble.
Their careers develop on separate, but successful, trajectories until they can no longer ignore their former partner's achievements and passion for each other.

It is now 1946, and the war is over, and a resurgent New York is beginning to rebuild. As steel beams swing overhead, a collection of artists has dreams as big and diverse as the city itself. But do these singers, dancers, musicians and makers have what it takes to survive this place, let alone to succeed? If they can make it there, they can make it anywhere.

Is
New York, New York

Good for Kids?
The show is intend for mature audiences and is recommended for audiences older than 18 years of age
St. James Theatre
246 West 44th Street
New York, NY 10019
Entrance:
44th Street, between 7th and 8th Ave
Theatre Information
New York, New York Marquee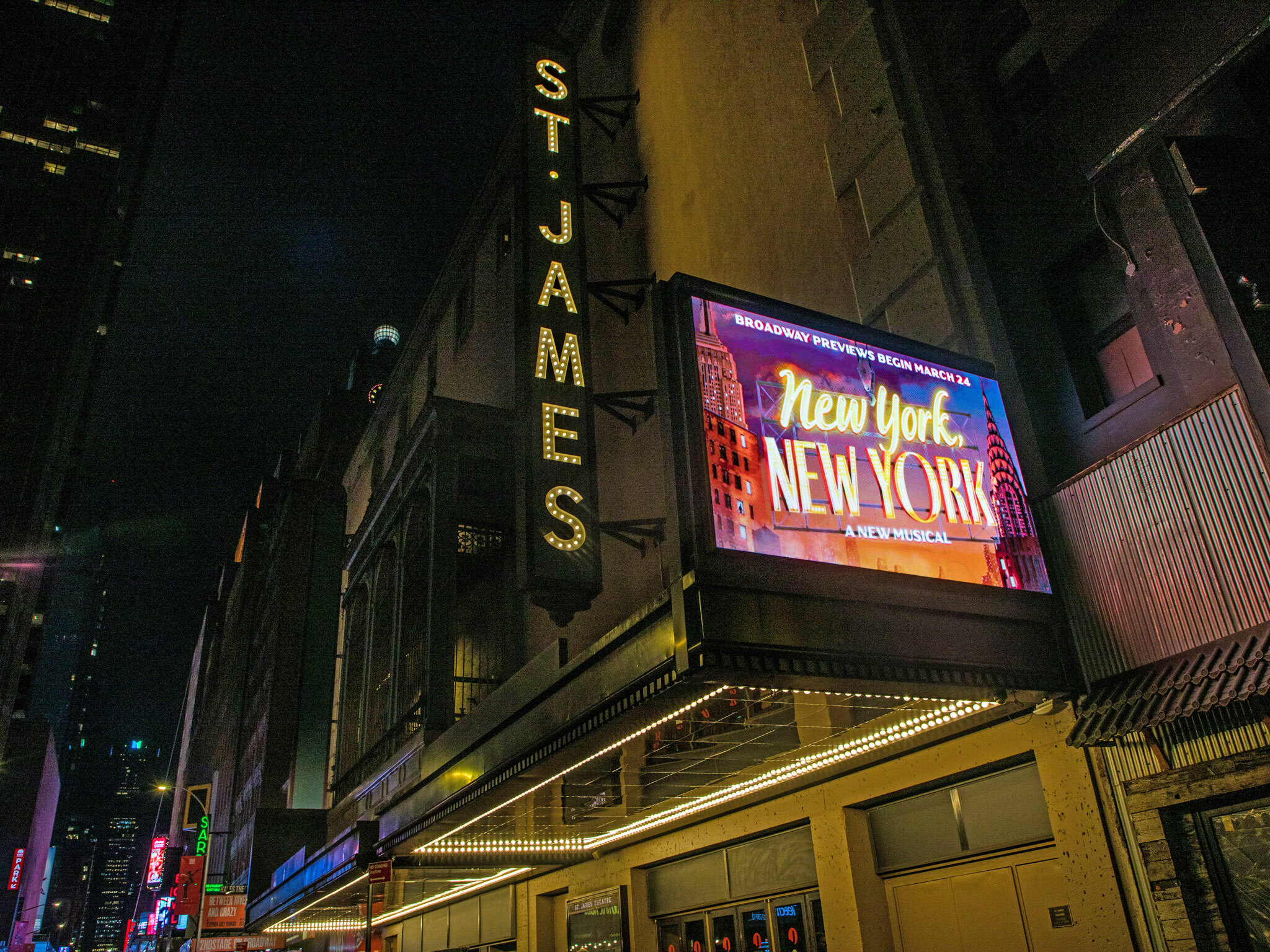 Francine Evans

Anna Uzele
Choreography

Susan Stroman
Music Supervisor

Sam Davis
Vocal Arranger

David Loud
Music Director

Alvin Hough, Jr.
Orchestrations

Daryl Waters
Book Writer

David Thompson
Co-Book Writer

Sharon Washington
Music and Lyrics

John Kander
Music and Lyrics

Fred Ebb
Additional Lyrics

Lin Manuel-Miranda