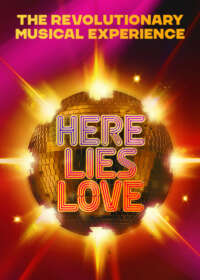 Here Lies Love
Discount Broadway Tickets
Discount Broadway Tickets For Here Lies Love
Show Status: Currently playing at the Broadway Theatre

Genre: Musical

Here Lies Love is 90 minutes long, and does not have an intermission.

8 Shows per week

Previews Began: June 17, 2023

Show Opened: July 20, 2023

Show Closes: Open ended
A new musical experience depicts the rise and fall of former First Lady of the Philippines Imelda Marcos, and her penchant for money, power, jewels and her 1,060 pairs of shoes
Here Lies Love

on Broadway Background
2013 Stint At The Public Theatre
The show first premiered Off-Broadway at The Public Theater in 2013 and won an Obie Award, Outer Critics Circle Award, two Drama Desk Awards and five Lucille Lortel Awards.

Various Show Incarnations Over The Years
The musical returned to The Public Theatre in 2014, the year in which it also debuted at London's Royal National Theatre, earning multiple Olivier nominations. The most recent production took place at Seattle Repertory Theatre in 2017.

Here Lies Love Adopts Standing Room Only in Orchestra
In order to get the concert feel, the orchestra section seats have been removed and now the area is a standing area, with just a few floor seats on the both sides. The mezzanine seating remains intact.
The Broadway Theatre - Often An Empty Venue - Is It a Curse or Mismanagement?
The Broadway Theatre is empty more often that it has a Broadway show in it, so it comes as a surprise that this show will sit-down in it.
The theatre landlord, The Shubert Organization, must be using this theatre as tax write-off, as very few Broadway shows are ever successful here.
It often seems like the kiss of death for shows to appear on the cursed boards of The Broadway Theatre. Here Lies Love hopes to be the exception to the rule.
Past Show Shows At The Broadway Theatre
The last show at this theatre was 2020's West Side Story. That show ended on a number of sour notes, especially because of its runaway production costs.
The show also faced scrutiny for its casting of Amar Ramasar, a principal dancer who was embroiled in a #MeToo scandal.
Scott Rudin was also a producer on this show and his four decades of abuse finally came to an end at the same time.
Last Successful Show At The Broadway Theatre
1991's Miss Saigon was the last hit at this theatre, as everything else since has failed miserably in both box office and critically. This includes: The Little Prince, King Kong and Rocktopia.
There hasn't been anything else of note at this theatre since Miss Saigon's closing in 2001 and it usually just sits empty, despite a plethora of producers looking for Broadway space to house their shows.
Not the Worst Performing Theatre On Broadway
Only the Nederlander Theatre does worse in terms of Broadway show theatre failures, but at least that theatre does not lie empty most of the time. The Broadway Theatre still owns that dubious honor.
Is The Show A Union Buster?
The 2023 production of Here Lies Love uses pre-recorded music which caused an outcry from the Broadway musicians unions. The show employs a DJ and pre-recorded tracks rather than live musicians and the musicians unions got very upset.
Unconventional Seating Format
Here Lies Love uses an unconventional seating and ticketing format.
What's
Here Lies Love

Like?
The show provides a semi-immersive experience where the audience is intermingled with the actors.
The Broadway Theatre is transformed from its traditional proscenium floor space into a dance club environment. Both standing and seated tickets are available.
Is
Here Lies Love

Good for Kids?
This show is not intended for audiences under the age of 16 years old.
Here Lies Love

Ticket Lottery and Rush Schedule

Every day there are discounted Broadway show tickets sold as part of the Broadway ticket lotteries or as Rush Tickets Tonight. Tickets are only valid on-the-same-day of the drawing. The following is the daily schedule of the ticket lottery and RUSH ticket pricing.
Online Lottery
Monday, 9:00am
Tuesday, 9:00am
Wednesday, 9:00am
Thursday, 9:00am
Friday, 9:00am
Saturday, 9:00am
General Rush
Tuesday, 10:00am
Wednesday, 10:00am
Thursday, 10:00am
Friday, 10:00am
Saturday, 10:00am
Sunday, 12:00pm
Broadway Theatre
1681 Broadway
New York, NY 10019
Entrance:
53rd Street Between Broadway and 8th Avenue
Theatre Information
Here Lies Love Marquee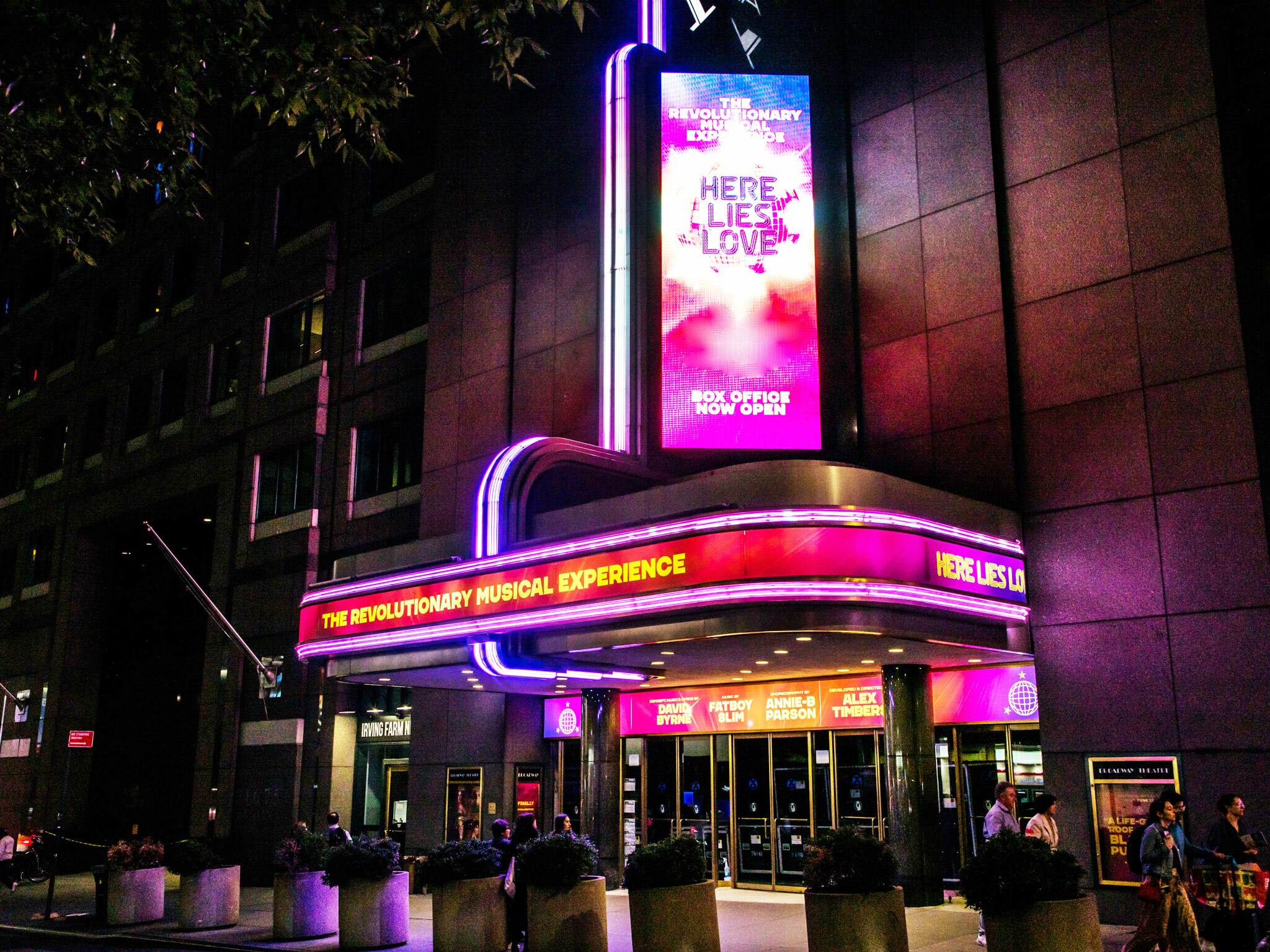 Imelda Marcos

Ruthie Ann Miles
Ferdinand Marcos

Jose Llana
Benigno "Ninoy" Aquino

Conrad Ricamora
Aurora Aquino

Lea Salonga
Choreographer

Annie-B Parson
Additional Music

Tom Gandey
Additional Music

J Pardo.