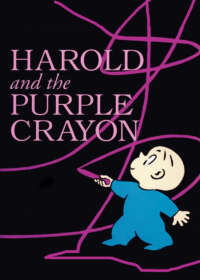 Harold and the Purple Crayon
Broadway Show In Development
Harold and the Purple Crayon is in Development
Harold and the Purple Crayon

Summary
Show Status: In Development

Genre: Musical

Harold and the Purple Crayon is 125 minutes long, including an intermission of 15 minutes

8 Shows per week

Show Closes: Open ended
A young child was able to draw away life's difficulties when he was a younger, but now as young adult he must find other solutions to solve his more profound problems.

Harold and the Purple Crayon

on Broadway Background
The Original Book 1955

Harold and the Purple Crayon is a children's book by Crockett Johnson. The original book was published by Harper Collins in 1955. Crockett Johnson was the pen name of the American cartoonist and children's book illustrator David Johnson Leisk. He used the pen name "Crockett Johnson" because he felt his name was too complicated for children to pronounce.
Despite many other books written by Johnson, Harold and the Purple Crayon remains his most popular book. The original book also led to a series of other books, as well as many adaptations in many languages.
Television Series 2002
In 2002, the Harold and the Purple Crayon stories were adapted for HBO by Adelaide Productions into a 13-episode television series that saw success both down under and stateside.,
TV Show Narrated by Sharon Stone and Connor Matheus
The shows were narrated by Sharon Stone and featured Connor Matheus as the voice of Harold. The TV series focused on Harold using his purple crayon to explore a new world with each episode having Harold focused on life lessons throughout his journeys.
Movie Version 2010 - 2023
In 2010 a movie of "Harold and the Purple Crayon" was announced, but getting the film made was a huge undertaking with many missteps including bankruptcy.
The movie was finally given the go ahead and the 2023 movie treatment stars Zachary Levi, Zooey Deschanel and Lil Rel Howery. The movie is a live-action adaptation directed by Carlos Saldanha for Sony Pictures.

Broadway Version Slated For 2024
A Broadway show was developed in 2022 based on the hit book Harold and the Purple Crayon, which was originally written by Crockett Johnson back in 1955.
The book writers are the playwrights Dan Rothenberg and Robert Quillen Camp and the original songs for the show were composed by the pop group AJR's Jack and Ryan Met.
Tiwary Entertainment Group
The awful Tiwary Entertainment Group's TEG Plus division is currently developing the show, with Elie Landau running interference.

The Broadway version of the show is an adult version of Harold facing challenges in everyday life without his magical purple crayon.
What's
Harold and the Purple Crayon

Like?
In the original books, Harold, is a curious four-year-old boy who, with his purple crayon, had the power to create a world of his own simply by drawing it.
When Harold wanted to go for a walk in the moonlight, but there is no moon, so he would draw one. When he realizes he has nowhere to walk, he draws the path. Harold has many adventures while looking for his room, and in the end, he draws his own house and bed and then goes to sleep.
Broadway Show Sees Harold As An Adult
Harold, who was just four years old in the original books, is now a young adult facing common challenges in everyday life. When he realizes that he can no longer rely on his magical purple crayon he has to resort to other methods to solve his real world problems. The issue is that now his problems are too profound to simply draw away and his crayon on longer works.
Teaching Children How To Decipher Reality
The original book taught children how to decipher reality. As a rather ambiguous idea, the discussion of "reality" often throws children into a fun and active topsy-turvy discussion of what it means to be real. The story shows how to give people the power of reality. The Broadway attempts to garner that spirit in an adult-centric form.

Is
Harold and the Purple Crayon

Good for Kids?
This show is perfect for anyone that grew up on the book "Harold and the Purple Crayon" and wants to relive the discussion of reality and develop some life lessons.
Hudson Theatre
145 West 44th Street
New York, NY 10036
Entrance:
44th Street Between 7th Ave and 6th Ave
Theatre Information
Tiwary Entertainment Group - TEG Plus
Original Book Writer

Crockett Johnson
Book Writer

Dan Rothenberg
Book Writer

Robert Quillen Camp