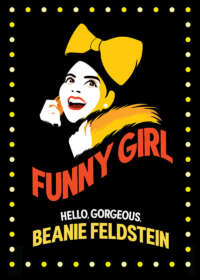 Funny Girl
Discount Broadway Tickets
Discount Broadway Tickets For Funny Girl
Rush Tickets Tonight
Show Status: Currently playing at the August Wilson Theatre

Genre: Musical

Funny Girl is 2 hours and 15 minutes long, including an intermission of 15 minutes

8 Shows per week

Previews Began: March 26, 2022

Show Opened: April 24, 2022

Show Closes: November 20, 2022
Biographical musical about the life and career of Vaudeville, Broadway and film star, Fanny Brice and her relationship with her miscreant husband Nicky Arnstein
Funny Girl

on Broadway Background
Funny Girl is an American biographical musical about the real-life story of Fanny Brice who was a star on Vaudeville, Broadway, film and an early female comedian who shaped the industry for all that followed.
The show was originally produced on Broadway in 1964 and was later made into an award winning film in 1968. The original show and movie should not be confused with the novel of the same name written by Nick Hornby that was published in 2014.
Original Funny Girl Broadway Show Back in 1964
The original 1964 Broadway show production was produced by Ray Stark and was written by Isobel Lennart. The music was written by Jule Styne and the lyrics came from Bob Merrill. Stark was able to provide first hand knowledge of the life experiences of Fanny Brice as he became her son-in-law when he married her daughter Frances in September 1940 and therefore he had over 24 years of shared experiences to add to the plot.
The show's original title was My Man, but was changed at the last moment to better capture the critical responses to Brice's story and to turn the focus back to Brice, when clearly Arnstein was a bit-player in her life story. Although critically acclaimed, the production failed to win any Tony awards despite being nominated for eight of the illustrious Awards at the ceremony in 1965.
Original Show Starred 'Then' Newcomer Barbra Streisand
The original 1964 Funny Girl Broadway show starred relative newcomer Barbra Streisand in the lead as Fanny Brice. Streisand was then fresh off her acclaimed role in I Can Get It For You Wholesale that ran for 300 performances in 1962.
The subsequent 1968 movie version of the show was a romanticized version of the Fanny Brice story. The movie ultimately became the breakout movie role for Streisand in Hollywood, much as the Broadway show was for her in New York. Streisand then went on to win the Oscar for best actress later that year.
Movie Romanticizes the True Nature of Nicky Arnstein
In the movie, Streisand starred opposite Omar Sharif as Nicky Arnstein, as her love interest. The director William Wyler decided to make her husband a far more exotic character than the real-life cad from New Jersey that she had actually married. This was also different to the version of Nicky Arnstein in the Broadway show.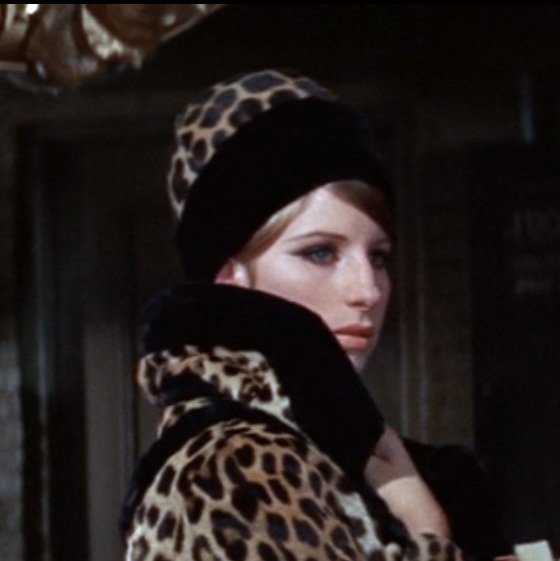 Original West End Show Run in 1966 and West End Revivals
After the success of the show on Broadway, the show then had a West End run in 1966 and then toured across the world to much critical acclaim. A West End revival came in 2016 and a UK tour in 2017.
Idina Menzel Was Slated For Broadway Revival in 2022
This latest incarnation of the show was to feature Idina Menzel in the lead role and Michael Mayer directing, who is fresh off his critically acclaimed directorial debut at Little Shop of Horrors. Harvey Fierstein also had a hand in this production with a revised version of the book, that updates much much of the funnier parts of the show and brings it back to the true reality of the Fanny Brice story.
Menzel Choice Faced Controversy and Dropped Out
Producers and Critics had complained that Idina Menzel had lost much of her luster after the debacle with her own Broadway show If/Then that barely crawled over the one-year finish line in its Broadway debut in 2015.
Pundits bemoaned that the whole pre-feminism story of Fanny Brice and Funny Girl would not be reshaped to fit in a post-feminism movement in a #MeToo world with Menzel in the lead role.
We now live in a world where women are doing it for themselves and they have very little sympathy for the pasts lack of activism, of which Brice may be guilty of and Menzel unable to retell.
Beanie Feldstein Set For Role in Spring 2022
With the Idina Menzel controversy now well behind them, Funny Girl show producers decided to cast Beanie Feldstein in the lead role of Fanny Brice. Feldstein is known for mostly TV and movie work, but she did appear in Hello Dolly in 2017.
Feldstein is also pretty well connected in Broadway circles. Not only is she best friends with Ben Platt (with whom she went to high school) but Feldstein's brother is the slimmed-down movie actor and director Jonah Hill.

Beanie Feldstein and Jane Lynch Depart the Show on Sept. 25, 2022
Both stars will depart the show on Sept. 25, 2022 due to Feldstein's inability to stay healthy and Lynch who is fed up with Feldstein's absences. The male leads, Ramin Karimloo and Jared Grimes, will remain with the show. Replacement casting for Feldstein and Lynch has not yet been announced, but if a suitable replacement is not found, the show may close.
The fiasco of this show will be a dark cloud for Feldstein, and will affect any future Broadway musical in which she intends to star. Potential replacements for the lead roles include Julie Benko, Sarah Silverman and Lea Michele.
The musical is set in New York City in the two time periods that book-end World War I.
The show begins as Brice is reflecting on her life while waiting for the return of her husband, Nicky Arnstein, from Leavenworth prison in Kansas for serving jail time for various charges including embezzlement and conspiracy to sell fake securities.
It was not Arnstein's first visit to the big house as he had previously served time for a swindling and corruption charges ten years earlier which resulted in a stint at New York's Sing-Sing prison. Fanny Brice clearly knew that Arnstein was as corrupt as they come, but she had lacked the ability and confidence to be able to walk away from this man and their troubled relationship.
Brice's Career Takes Off
Brice laments on their life together and her rags to riches story is told as a flashback where Fanny gets her very first job in vaudeville and builds on her talent and success from there to become the hottest commodity on Broadway.
When Fanny's career takes off, she ditches her family and friends when she meets the handsome, but corrupt, Nicky Arnstein with whom she quickly falls in love. Fanny's career takes off when she becomes a big star with the Ziegfeld Follies and the money starts rolling in.
Marriage and Casino Venture
She marries Nicky and they move into a mansion on Long Island. It is then that her husband springs his next con by asking her boss, Ziegfeld, to invest in a casino venture idea. When Ziegfeld passes on the poorly crafted plan, Fanny insists on investing herself, to keep her husband happy, but her action has the unintended consequence of making her husband feel like a kept man and all the emotions that surround that.
When the casino venture fails due to the rejection of gaming licenses and they lose all their investment money, Fanny still tries to make light of it to lessen her husband's guilt, but inside she is mortified at the loss.
As a last ditch attempt to make a fast buck, the now-broke Nicky gets involved in a fake bond deal which results in his arrest for embezzlement.
During her life Fanny has many opportunities to walk away from this con-man, but she continues her destructive behavior of continuing to listen to her heart instead of her head.

Popular Show Tunes
The show features many popular songs that were written specifically for the show including "Second Hand Rose", "People" and "Don't Rain on My Parade"
Poignant Show Ending
At the end of the show, Fanny finally decides to separate from her husband when he is released from prison, and the show ends right there.
In real life, she soon divorces Arnstein after his release, but it took a terrible marriage to Arnstein that lasted over 9 years before Brice finally realized that she could not come to terms with the fact that Arnstein was not just a professional gambler, a confidence trickster and a general low-life, but he was also a man who lacked empathy for others and he cared for and loved no-one other than himself. Arnstein was a textbook sociopath.
Brice's judgement was wholly wrong about him the whole time they were together and despite the deep love that she had for him, there was no real meaningful love between the two of them. The show ending leaves audiences feeling a little flat, but hopeful for the future. The reality is somewhat different.

Is
Funny Girl

Good for Kids?
Funny Girl is perfect for the older generation to connect with and absolutely not for children. With its raw language and adult themes, the show is not recommended for anyone under the age of 16.
August Wilson Theatre
245 West 52nd Street
New York, NY 10019
Entrance:
52nd Street, between 8th Ave and Broadway
Theatre Information
Funny Girl Marquee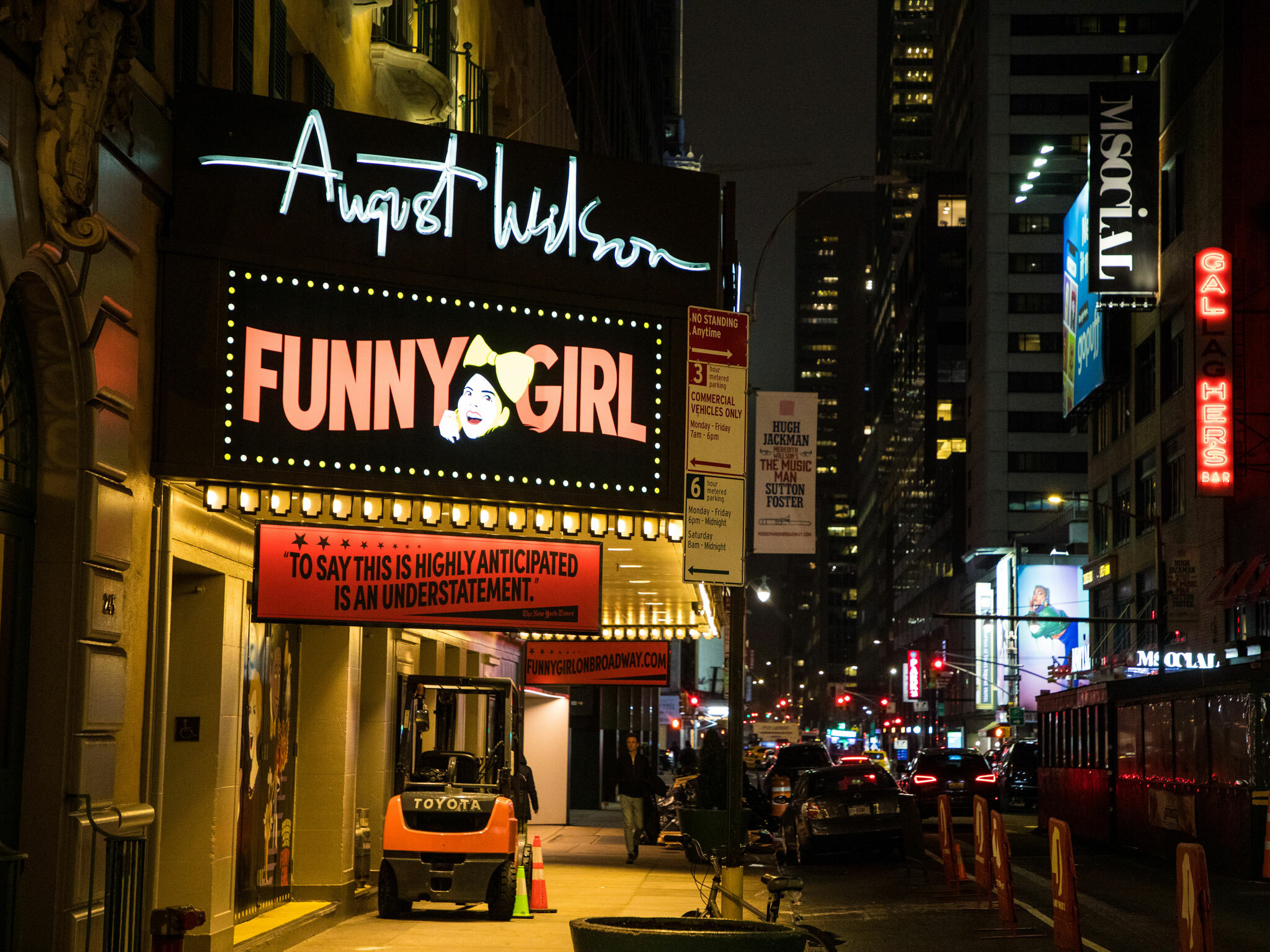 Fanny Brice

Beanie Feldstein
Nicky Arnstein

Ramin Karimloo
Mrs. Rosie Brice

Jane Lynch
Sonia Friedman Productions
Revised book

Harvey Fierstein
Original Book

Isabel Lennart