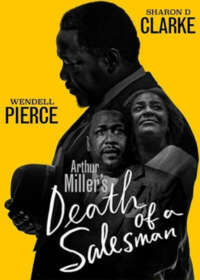 Death of a Salesman
Broadway Show Tickets: Show Closed No Longer Available
Death of a Salesman on Broadway: Show Is Now Closed
Death of a Salesman

Summary
Show Status: Closed

Genre: Play

Death of a Salesman is 3 hours, 10 minutes long, including an intermission of 15 minutes

8 Shows per week

Previews Began: September 17, 2022

Show Opened: October 16, 2022

Show Closed: January 15, 2023
12-time Tony Award winning classic play from Arthur Miller depicts an elderly salesman's end-of-life crisis and his ultimate suicide
Death of a Salesman

on Broadway Background
Death of a Salesman is a play written by the American Pulitzer Prize playwright, Arthur Miller and reimagined on Broadway in 2022 by Scott Rudin and Miranda Cromwell.
This version of the production originated at London's Young Vic Theatre before transferring to the West End in 2019.
Original Broadway Play Appeared on Broadway in 1949
"Death of a Salesman" first opened on Broadway in 1949. The show was written by the esteemed playwright Arthur Miller. The play has been revived on Broadway four times, most recently in 2012.
Tony Awards
The show originally debuted on Broadway in February 1949 and was nominated for six Tony Awards and won all six of them that year, including "Best Play". The play performed for 742 performances and has been revived on Broadway four times since its original Broadway debut. The first revival of the play happened in 1975 and did not win any Tony Awards.
In the 1984 revival the show won the Tony Award for "Best Revival". In the 1999 version the show was nominated for five Tony Awards and won three of them including the Tony Award for "Best Revival" again.
2012 Adaptation of the Show
In the 2012 adaptation, the show was nominated for seven Tony Awards and won two of them again including the Tony Award for "Best Revival". This production is the fifth revival of the play on Broadway and the lead roles are being played by famous movie and theatre actors Nathan Lane and Laurie Metcalf.
The show is considered to be one of the greatest plays of the 20th century by many big names and historical theatre critics. The show is about a man's loss of identity and his inability to accept change within himself, his family and society as it all changes around him.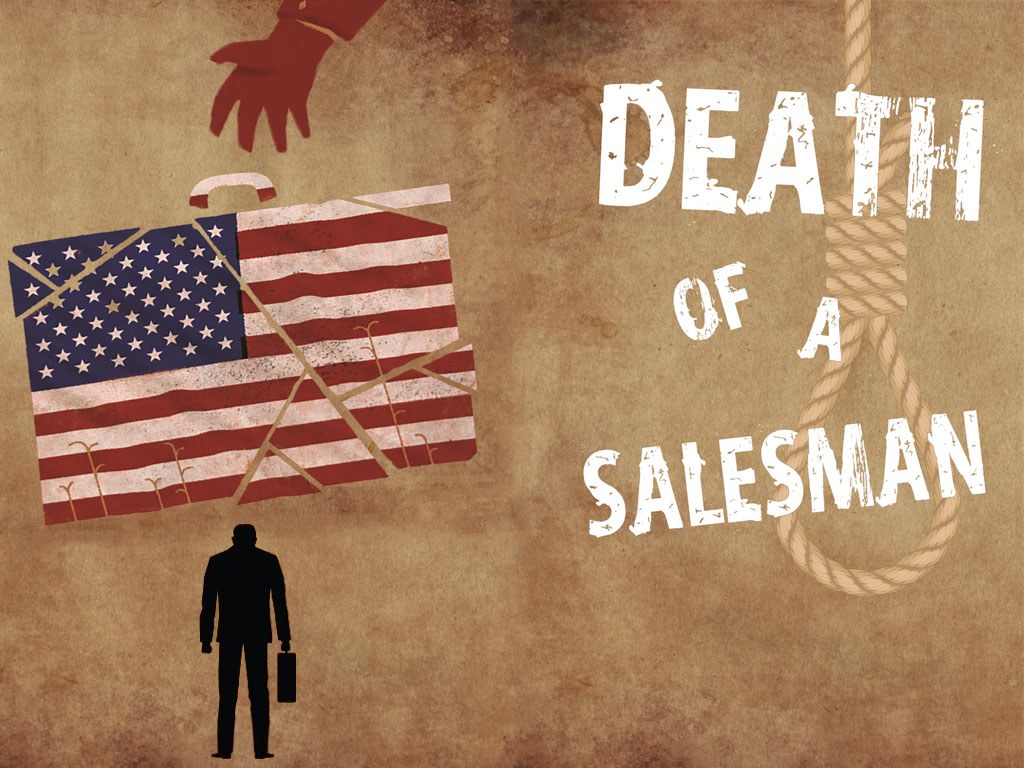 What's
Death of a Salesman

Like?
The story takes place during the last 24 hour period of Willy Loman's life as a salesman in the mid-1940s Brooklyn, New York, when the city's economy was thriving from the war effort production and the subsequent manufacturing boom.
The majority of the show is presented from the main character Willy Loman's point of view. Willy is a disheveled, elderly salesman who commonly sells hard-goods that are in desperate need during this time of war and rebuilding.
Mid-Stage Dementia or all Encompassing Psychosis?
The author of the play would like us to believe that Willy suffers from mid-stage dementia, but in reality he appears to be suffering from psychotic episodes leading to an all encompassing psychosis. Willy has many hallucinations that are portrayed live during the play and these hallucinations are used to tell the majority of his story.
Some hallucinations are actually real memories he is recalling and some are twisted ones that he makes up in his own mind. The show uses his wife Linda Loman to tell the audience which is which, as it is very hard to tell sometimes.
From Teaneck, New Jersey to Brooklyn, New York
Willy lives with his wife Linda in Downtown Brooklyn, which is a little run down but still has cheap rent. His two sons Biff and Harold (Happy) rarely come in from Teaneck, New Jersey to visit them.
With Willy's old age and delirium playing games with his mind, he is convinced that he hates his unemployed son Biff because he did not live up to his expectations. During the play Willy gets fired from his sales job which leads him to even more mental confusion and severe depression.
Willy then expresses his disappointments to Biff. Biff then admits that he too has difficulties himself finding work and suffers from mental problems.
A series of flashbacks reveals Willy's past thoughts of suicide, and the play resumes with Willy crashing his car and dying.
Tragic End to the Show
The play ends tragically when the reason for his suicide is revealed with a $20,000 life insurance policy that he has given to his children to secure their financial futures. Unbeknownst to Willy, the insurance policy's fine print indicated that suicide was not covered.
Is
Death of a Salesman

Good for Kids?
This show deals with heavy topics of old age, mental delirium, family issues and depression and is not recommended for kids under the age of 16.
Hudson Theatre
145 West 44th Street
New York, NY 10036
Entrance:
44th Street Between 7th Ave and 6th Ave
Theatre Information
Death of a Salesman Marquee
Willy Loman

Wendell Pierce
Linda Loman

Sharon D. Clarke
Linda Loman

Laurie Metcalf
Elliott and Harper Productions
Director

Miranda Cromwell