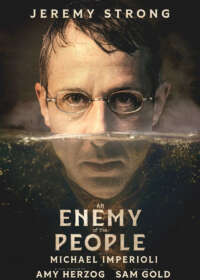 An Enemy Of The People
Discount Broadway Tickets
An Enemy Of The People

Summary
Show Status: Opening Soon

Genre: Play

An Enemy Of The People is 2 hours and 10 minutes long, including an intermission of 15 minutes

8 Shows per week

Previews Begin: February 27, 2024

Show Opens: March 18, 2024

Show Closes: June 17, 2024
A play written by Norwegian playwright Henrik Ibsen that was first published in 1882 and has since become one of Ibsen's most renowned works. The play explores themes of truth, morality, and the conflict between the individual and society.
An Enemy Of The People

on Broadway Background
This play has been staged on Broadway 10 times throughout the years. The most recent Broadway production of "An Enemy of the People" took place in 2012 and received critical acclaim.
The 2012 production was directed by Doug Hughes and starred Boyd Gaines and Richard Thomas. The 2012 version ran at the Samuel J. Friedman Theatre as part of the Manhattan Theatre Club's season.

Amy Herzog No Stranger To Ibsen's Work
This production will feature a script rewritten by the playwright Amy Herzog. Her revised version of Ibsen's "A Doll's House" also played on Broadway in 2023 with Jessica Chastain in the starring role.
This play is scheduled to run for 16 weeks in early 2024
Michael Imperioli Makes Broadway Debut
Imperioli is best known for his role on The Sopranos, for which he won an Emmy Award in 2004. He has also appeared in many films, including Goodfellas, Jungle Fever, Bad Boys, Malcolm X, The Basketball Diaries, Clockers, and Summer of Sam, which he cowrote.
He has had supporting roles in films such as Shark Tale and The Lovely Bones, as well as in the popular HBO drama series The White Lotus.
What's
An Enemy Of The People

Like?
The show plot revolves around Dr. Thomas Stockmann, a dedicated and idealistic scientist who discovers that the public baths in his town are contaminated. He believes that the baths pose a serious health risk to the community and insists on making his findings public.
Initially, Stockmann expects to be hailed as a hero for bringing this crucial information to light and protecting the health of the townspeople. However, as Stockmann pushes forward with his revelations, he faces opposition and resistance from various factions in the community.
Is
An Enemy Of The People

Good for Kids?
The show is generally considered a play for mature audiences. The themes and subject matter of the play, including political and moral conflicts, may be complex and not necessarily appropriate for young children.
It's recommended to review the specific production's content advisory or age recommendations before considering taking children to see the play. The show is appropriate for persons over the age of 16.

It's always a good idea to consider the maturity level and interests of the children involved, as well as any specific guidelines or recommendations provided by the theatre.
Circle In The Square Theatre
1633 Broadway
New York, NY 10019
Entrance:
Broadway, between 50th and 51st Streets
Theatre Information
Dr. Thomas Stockmann

Jeremy Strong
Peter Stockmann

Michael Imperioli
Original Playwright

Henrik Ibsen