Will "Hamilton" Cast Departure Have a Major Impact?
Hamilton Is Still At The Top Of Its Game, But Its Three Major Stars Have Departed: Lin-Manuel Miranda, Phillipa Soo, And Leslie Odom, Jr.
---
"Hamilton's" Lin-Manuel Miranda, Phillipa Soo, And Leslie Odom, Jr. Final Performance On July 9th, 2016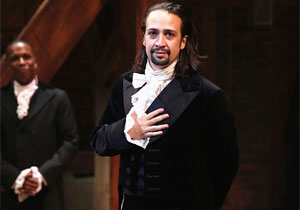 Just a few weeks ago, Lin-Manuel Miranda, the writer, composer, lyricist and star of Hamilton, the mega-hit which recently took home 11 Tony Awards including Best Musical, announced that his last performance onstage in the title role of Alexander Hamilton would be Saturday, July 9, 2016.
His longtime friend and understudy, Javier Muñoz, will be officially taking over on July 11, 2016. Muñoz made his Broadway debut in In the Heights, also by Miranda, first in the Ensemble, and then stepping into the role of Usnavi. In addition, two of the other principal actors in the production will depart at the same time.
Lexi Lawson Makes Her Broadway Debut
Tony Award nominee Phillipa Soo, who plays Hamilton's wife Eliza Schuyler, and Tony Award winner Leslie Odom, Jr., who plays Vice President Aaron Burr, will leave along with Miranda.
Replacing Phillipa Soo as Hamilton's wife will be Lexi Lawson, who is making her Broadway debut but has played major roles in touring productions including Vanessa in the tour of In the Heights, and Mimi in the touring production of Rent. Replacing Leslie Odom, Jr. as Aaron Burr will be Brandon Victor Dixon, who has just been in the revived production of Shuffle Along along with Audra McDonald, Billy Porter, Joshua Henry and Brian Stokes Mitchell.
Famous Cast Members Moving Onto Their Next Frontier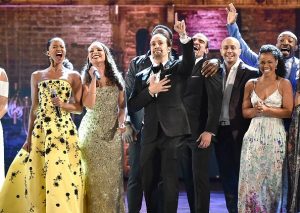 All three of the amazing cast members will be moving on to new, exciting opportunities. Miranda has become a global phenomenon with the whirlwind success of Hamilton – among his countless accolades, he has been awarded a Pulitzer Prize, two Grammy Awards, three Tony Awards, an Emmy Award, and the MacArthur "Genius" Grant.
After departing from Hamilton, Miranda's next project will begin a role in a Disney film that is the sequel to Mary Poppins, starring opposite Emily Blunt as a London lamplighter in a musical with a score by Marc Shaiman and Scott Wittman (Hairspray).
"Hamilton" To Open In Chicago
He has also contributed to the score of another Disney animated film called Moana, which will be released this upcoming autumn. Furthermore, Hamilton will embark on a new adventure itself, as a production will open in Chicago this upcoming fall in an open-ended run, as well as an upcoming production in London's West End - in which Miranda has indicated he will star in, but Miranda has been known to change his mind on a whim, so Hamilton fans should not buy tickets to the show just on this expectation.
As for Philippa Soo, she will be leaving Hamilton and will star in a new musical called Amelie, based on the feature film of the same name, which starred Audrey Tautou. Starting in December 2016, Amelie will play at the Ahmanson Theatre in Los Angeles, with hopes to land on Broadway next year, leveraging her star power.
Leslie Odom Jr. Shifts Focus To Music Career
Leslie Odom, Jr. is going to focus on his music career. In 2014, he released his debut album, Leslie Odom Jr., and in June 2016 he released an updated version of that album, which he plans to promote at cabaret venues across the country. With these three Broadway stars, who have effectively been burnt out by Hamilton, going their separate ways, it remains to be seen how much success they will each see in their new chosen fields.
The problem Miranda now faces is that the Hollywood press is not as forgiving as the sycophantic Playbills of this world. His world might come crashing down with a bad review for the Mary Poppins movie reboot with Emily Blunt. If this does happen, expect to see Miranda retreating to his familiar Hamilton role in the London or Chicago productions, where Playbill's senior editor, Blake Ross, can continue heaping her excessive praise upon him, so much so that the doors may need to be widened at 525 Seventh Ave.
Will "Hamilton" Now Be A Shadow Of Its Former Self - Where Star's Ghosts Abound?
After the departure of these three principal actors, it remains to be seen if Hamilton can come close to the success that Lin-Manuel Miranda and the other main actors brought to the show. One thing that is expected following these major cast changes is that the epic cancellation ticket line will likely shrink significantly.
Furthermore, the ticket broker resale tickets are expected to see a significant decrease from the exorbitant levels that have become predominant in the last few months. It is interesting that the producers did not use this opportunity to bring in a big name such as Kanye West to take over a principal role, but this is more evidence that Hamilton may have its own source of internal star-in-the-making power, and is not in the business of relying on preexisting fame to sell its tickets.
Can "Hamilton" Sustain Long-Term?
It could also be that the production is just cheap and would not pay Kanye West enough to turn up every night for the show. The show may just not have the insight needed for the long game, vis-a-vis The Lion King, Wicked or even Book of Mormon. In the medium term, the Hamilton ticket market should see some level of cooling off, as the hype begins to lessen over time.
However, Hamilton has experienced unprecedented levels of hype and price spikes in the past, and the excitement over the show may continue in the absence of the stars. While there is some evidence that Lin-Manuel Miranda is one of the major selling points for this show, such as ticket demand fluctuation for the performances he missed, the show itself is an undeniable phenomenon. Fans may be upset with the end of an era, with Lin-Manuel stepping away from the show, but the show will live on - but it is now in uncharted territory and it really could go either way.
Raising Money For The Democratic Party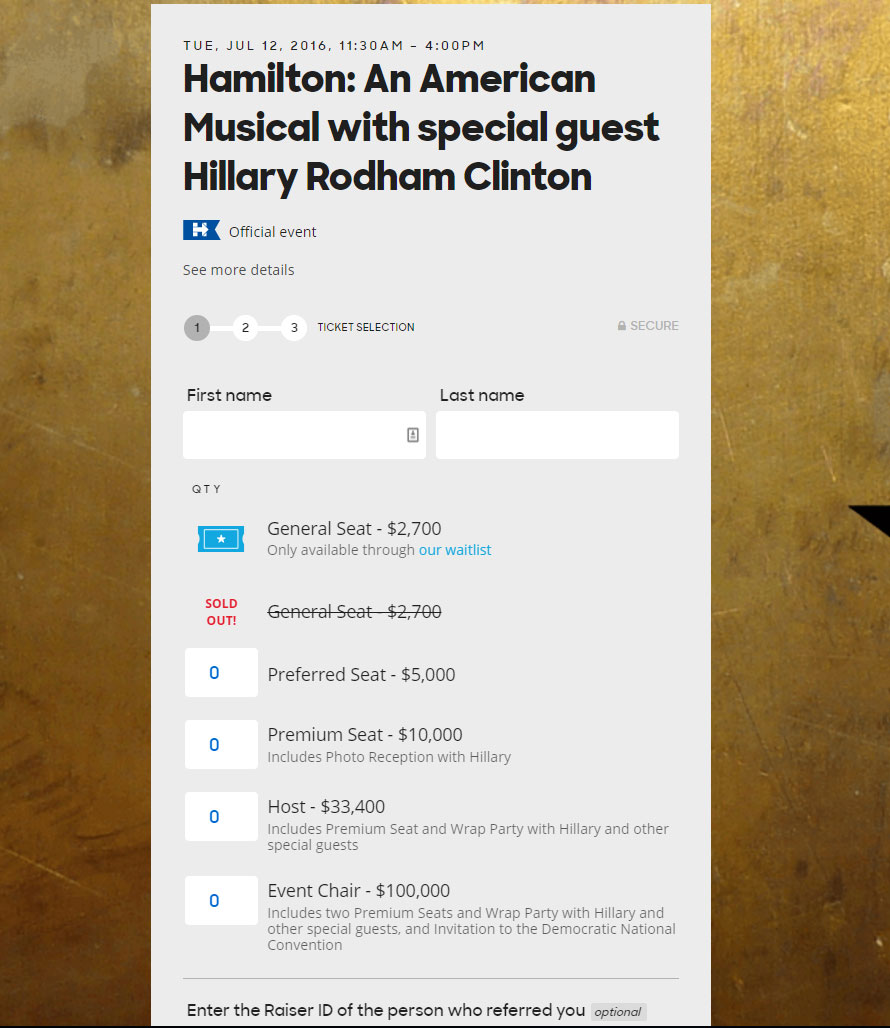 In a vicious political irony, Alexander Hamilton (who was a card-carrying Federalist and was close to the Republican ideals we know today) keeps having his namesake Broadway show Hamilton co-opted by the liberal elite Democrats for fundraisers for their political party, right here in the 2016 Presidential Election cycle.
It first began with President, Barack Obama raising money for the democratic party on November 1, 2015 where seats to the show were starting at a "donation" of $500 and going north of $10k for the most coveted spots in the orchestra that were next to the president and included a picture with his-nibs, the President.
Hillary Clinton Joins The Fundraiser
Not giving up the chance for even more money for her presidential campaign, Hillary Clinton is now at it as well, with a DNC fundraiser for the "Hillary Victory Fund" on July 12, 2016 at the show. Prices are in the same ballpark, but the top price is $100k for the premium experience.
No word yet if the top price actually gets you out of having a photo with her, especially after her recent run-in with the FBI over her alleged lying to Congress.
Discount Broadway Tickets
---
---