Weezer on Broadway Cancels Residency Following Poor Ticket Sales Debacle
Weezer's Broadway Residency Canceled According to Frontman Rivers Cuomo Who Cited Low Ticket Sales and High Expenses As Reason To Cancel The Show That Was Scheduled for Five Performances
---
Weezer Just a Teaser: Broadway Residency Canceled

Popular alternative rock emo band Weezer were slated to be in residence on Broadway at the Broadway Theatre from September 13-18 but have since canceled their engagement. According to frontman Rivers Cuomo (the group's lead vocalist, guitarist and writer) the concerts were scrapped due to extremely low ticket sales and prohibitively high operating expenses.
Reportedly costs were $250K upfront and $15,000 per-operating-hour. Those runaway production costs combined with an abysmal advance were a recipe for disaster. Tickets first went on sale on June 24th but have since been taken down and the scant ticket sales have all been refunded
American Utopia and Springsteen on Broadway
The Weezer debacle isn't reflective of recent rock hits like David Byrne's American Utopia and The Boss's solo show Springsteen on Broadway, both of which ran to great acclaim. Audiences shelled out big bucks for both concert musical theatre hybrids, which were also eventually streamed on HBO Max and Netflix respectively.
Both Springsteen and Byrne have a bigger following but the popular punk band still should have been able to fill any Broadway theatre for its weeklong residency. Perhaps there's more natural overlap between Broadway and Bruce and Byrne, as their bodies of work are so rooted in narrative. The Weezer oeuvre, not so much.
Also, because their collective and respective fan bases are so vast, neither The Boss nor The Byrne needed such a far reaching marketing campaign. A fringier act like Weezer obviously did.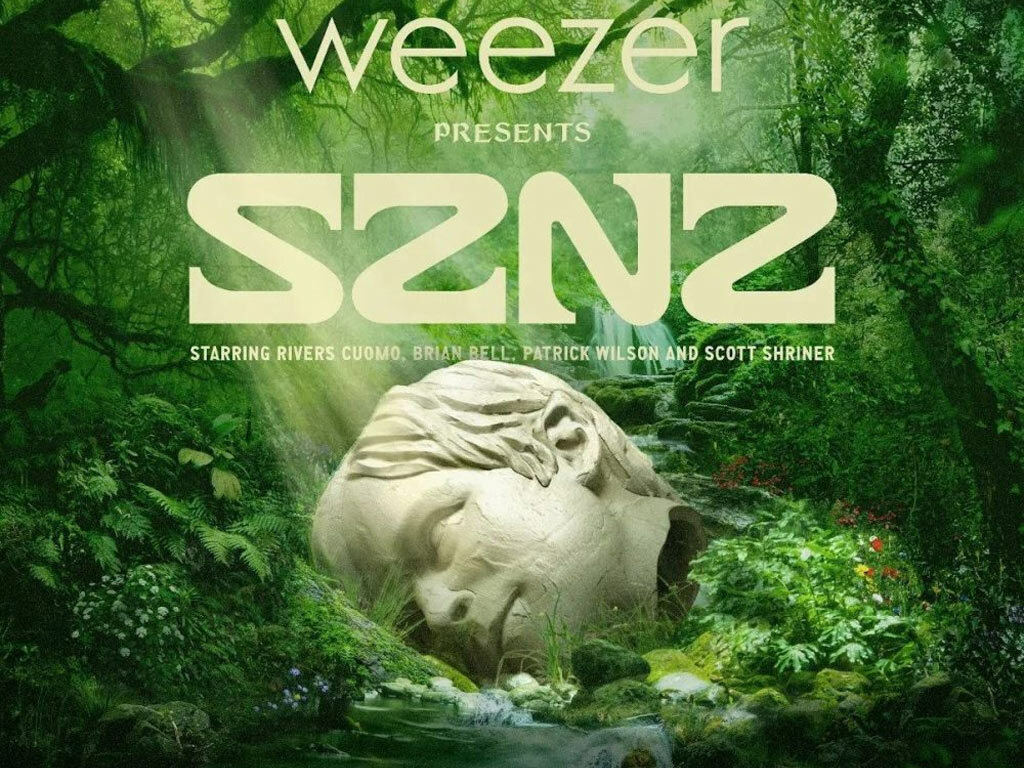 Only In Their Dreams: What Could Have Been
The American punk group planned to celebrate its seasonal EP series SZNZ as the occasion for the Broadway residency.
Each of the night's shows was supposed to correspond with one of the four seasons from SZNZ, as well as some of Weezer's classic songs. The fifth and final night was to feature a mix of the songs from each EP plus highlights from their entire discography.
Spring and Summer, two of the seasonal EPs are currently out. Winter and Autumn have yet to be released.
An inherently theatrical enterprise, Weezer's early work was influenced by Puccini. The band appears to have dramatic, stageworthy instincts. For the Broadway stint, they were working with a writer and experienced producers like Vivek J. Tiwary (Broadway's Jagged Little Pill, American Idiot) to create a distinctive theatrical experience for its fans and theatre lovers alike.
Say It Ain't So
For Rivers Cuomo, the chance to play a Broadway house was equal parts shocking and thrilling. The confluence of the offer's timing with the tetralogy's release was too good to resist.
Weezer, which continues to perform throughout the summer, took pride in having invested a lot of time, thought, and emotion into the project. They expressed hope to resurrect their vision at some point in the future. While Cuomo and his bandmates are sorely disappointed and Broadway probably won't come calling again anytime soon, the planned storylines may be useful fodder for the band's next album. Lesson learned.