War Horse Launches U.S. Tour Despite Three Permanent Shows
War Horse, The Theatrical Sensation Currently Playing In London's West End, On Broadway In New York, And In Toronto, Is Going Out On A National Tour
---
Broadway's "War Horse" Embarks On National Tour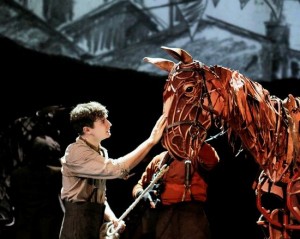 War Horse, the theatrical sensation currently playing in London's West End, on Broadway in New York, and in Toronto, is finally going out on the road. The North American tour of War Horse has begun with an engagement at the Ahmanson Theatre in Los Angeles, where it will play until July 29.
After the L.A. stop, War Horse will march on to numerous stops across the U.S., including San Francisco, Dallas, Atlanta, Boston, D.C., Philadelphia, Chicago, Seattle, and Minneapolis. A number of smaller cities, such as East Lansing, Tempe, Spokane, Fayetteville, and Appleton are also on the docket.
Huge Hit In London
Based on the Michael Morpurgo novel (adapted for the stage by Nick Stafford), War Horse started as a huge hit for the National Theatre in London, going on to enjoy a successful Tony Award-winning production on Broadway at the Lincoln Center Theater. In addition to the power of its World War I-era tale of a boy and his beloved horse, War Horse's main draw has been the phenomenal life-size (and life-like) puppets created by the Handspring Puppet Company.
This past Christmas, director Steven Spielberg brought the story to a global movie-going audience with his adaptation of War Horse. The film -- which of course used real horses -- was well-received and earned a Best Picture Oscar nomination, but the stage adaptation still offers a uniquely theatrical experience that is likely to draw large audiences as it makes its way across the country.
Discount Broadway Tickets
---
---