"Waitress" All-Female Creative Team Earns Strong Reviews
Waitress opened on Broadway bringing in great reviews and strong box office, all with an all-female creative team.
---
Five-Time Grammy Nominee Sara Bareilles Writes Music and Lyrics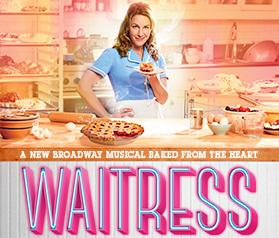 Last week,
Waitress
had its official opening night at Broadway's Brooks Atkinson Theatre. The musical is based off the 2007 American comedy film of the same name, which was written by Adrienne Shelly and starred Keri Russell. The film was acquired by Fox Searchlight and grossed $21.2 million, becoming a modest sleeper hit. Since Adrienne Shelly's murder three months before the film's premiere at the Sundance Film Festival, the Adrienne Shelly foundation has supported artistic endeavors that vehemently oppose violence against women. It is therefore fitting that this groundbreaking Broadway musical would have an all-female creative team, including a book by Jessie Nelson, music and lyrics by five-time Grammy nominee Sara Bareilles ("Love Song"), directed by Diane Paulus (
Finding Neverland
,
Pippin
,
The Gershwins' Porgy & Bess
,
Hair
), and choreographed by Lorin Latarro (
The Curious Incident of the Dog in the Night-time
,
Scandalous
). The story of
Waitress
centers on a young woman named Jenna Hunterson who become pregnant and begins an affair with her gynecologist, all while focusing her energies on a pie contest and its grand prize. The musical stars Jesse Mueller, who is best known for originating the leading role in
Beautiful: A Carole King Musical
, and also for her performances in
The Mystery of Edwin Drood
,
Nice Work If You Can Get It
, and
On a Clear Day You Can See Forever
.
Raves From Many Critics, but the New York Times More Unsure
Upon attending a press preview performance of
Waitress
, Charles Isherwood of The New York Times praised the talents of Jessie Mueller, calling the musical "agreeable if unexceptional," and admitting that the characters had much more depth in the film. David Cote from Time Out New York was more in awe of the show, calling it "love at first bite" in reference to the dessert themed imagery from the story. Jeremy Gerard from Deadline felt the rush of the sadness combined with exhilaration of this show, deeming it the rare movie to musical adaptation that is as much a sweetheart as its source. Marilyn Stasio from Variety also commented on the sweetness of the production, attributing it to Jessie Mueller, and also praises Sara Bareilles' score, while regretting the musical's adoption of comic overkill to build its characters. David Rooney from the Hollywood Reporter found the musical to be thoroughly charming, remarking that it is a fine debut for Sara Bareilles into musical theatre, and calling it a deep dish of feminist feelgood food.
Performing Quite Well at the Box Office
Perhaps it is because the subject matter is so well suited to the average Broadway ticket buyer, a middle aged woman, but
Waitress
has so far proven itself to be a contender at the box office. While the week leading up the opening night saw a decrease in ticket revenue, due primarily to the large number of complimentary tickets given out for press performances, the show was generally bringing in over 90% of its gross potential during previews. In its first three performances, the show brought in 111.38% of its gross potential, with an average paid admission of $134.29 in an audience filled up to 101.1% of its capacity. On average thus far,
Waitress
has brought in 91.3% of its gross potential, with an average paid ticket of $110.79, and an average audience capacity of 100.46%. With these solid reviews, and an exciting array of women leading its success,
Waitress
may be a strong contender for awards season and a viable prospect for recoupment during its Broadway run.