Tony Winner "Dear Evan Hansen" Sees Profits On Broadway
Dear Evan Hansen Has Officially Recouped Its Initial Investment Of $9.5 Million And Is Now In The Black, Running In Profits.
---
Best Musical Recoups Capitalization Of $9.5 Million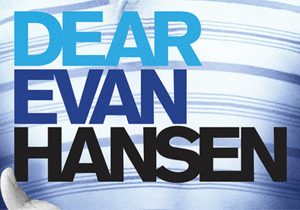 Earlier this week, it was announced that Dear Evan Hansen, the show that took home this year's coveted award for Best Musical, has officially recouped its initial capitalization of $9.5 million. From now on, any box office revenue is profits for the show's investors, minus the weekly running costs of around $600,000 per week.
This makes Dear Evan Hansen the first new musical of the season to enter profits. A conflation of factors led to this speedy recoupment in just 8.5 months. Of course the six Tony Awards, including Best Musical, helped, and the excellent buzz about the break-out performance of Ben Platt definitely helped spur interest, especially among younger skewing audience members.
Academy Award For Best Original Song
Furthermore, the show's composers Benj Pasek and Justin Paul won this year's Academy Award for Best Original Song, for their composition of "City of Stars" from La La Land. They even beat out Hamilton creator Lin-Manuel Miranda for that award; he was in the running for his song from the Disney film Moana.
In addition, the musical has a book by Steven Levenson, of the hit television show Masters of Sex, and the show is directed by the proven fan favorite director Michael Greif, who also helmed shows such as Rent and Next to Normal.
Star Power Cast And Creative Team
With a powerhouse cast and creative team, along with awards recognition, the show also benefitted from the fact that Hamilton continues to be sold out for months to come, and this year's Tony Award winning musical is not a bad Plan B in that scenario.
In a less competitive season where there was no shoe-in for the top award, Dear Evan Hansen benefitted nonetheless, as tickets for last year's Best Musical continue to remain elusive.
Continues To Break Records In Modest-Sized Music Box Theatre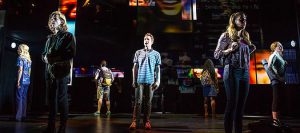 In addition to the show's internal achievement of entering profits, Dear Evan Hansen has continually proven its strength in comparison to other shows. This is especially impressive because the show is playing in one of Broadway's smaller venues: the Music Box Theatre, which has just 984 seats.
To date, the highest weekly gross that Dear Evan Hansen has earned took place in the week ending July 9, 2017, when the show brought in $1,725,297, or 125.24% of its gross potential. This weekly gross not only set a new house record for the Music Box, but also for any Broadway house of under 1,000 seats.
Audiences Fill Large House Theatres
This past week, the week ending July 16, 2017, Dear Evan Hansen was the fifth highest grossing show; the four highest grossing shows were Hamilton, with a weekly gross of $3,019,947, The Lion King, with a weekly gross of $2,511,628, Hello, Dolly!, with a weekly gross of $2,232,162, and Wicked, with a weekly gross of $1,900,445. However, those shows play in significantly larger houses.
Hamilton plays in the Richard Rodgers Theatre, which has 1,400 seats, The Lion King plays in the Minskoff Theatre, which has 1,710 seats, Hello, Dolly! plays in the Shubert Theatre, which has 1,460 seats, and Wicked plays in the Gershwin Theatre, which has 1,933 seats. Therefore, with almost 1,000 fewer seats to fill than Wicked, Dear Evan Hansen brought in just $236,180 less than Wicked this past week.
"Dear Evan Hansen" Has Optimistic Future
All in all, these are all signs that Dear Evan Hansen is not going anywhere anytime soon. A show of this hit status will soon announced its national tour, and productions will likely pop up in other major markets such as Chicago, Los Angeles, and perhaps London, all while the Broadway production continues to churn in a profit.